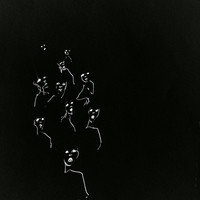 1403 was the namesake chosen out by the London new comer. This singer/song writer whose name is hidden behind this stage name that is 1403, has released a song turned video for a track called "Tonight".
The fairly new release came out not that long ago, has already made its rounds with its accompanying video release of close to 300 views and counting. The video is pretty bland and basic, having the singer/song writer 1403 playing his guitar while singing atop a freeway pass way or bridge it's hard to tell. In any way though, there he is as 1403, alongside a women whom he is singing too possibly ,it is how it looks from the videos concept and appeal of course.
The backdrop of the video is atop that freeway passage or bridge setting but the skyline can be seen a bit behind all of it, as the sun is setting, the sky changes from a doomy lit skyline down to a gloomy orange red setting, as rain clouds roar strong with their lighting striking. So a mood setting is very present throughout this video for "Tonight". As for the song itself though, it takes the likes of the pop genre, being very traditional, taking the likes of old school John Mayor meets Keane. That is how the style is performed at least so you have an idea as to how it sounds. A very mellow dramatic feeling with that slow paced type of beat. It's one of those tracks you could listen too on rainy day if not an early morning would be the precise time frames for it.
Otherwise the song itself, revolves around love and loss. 1403 had said in an interview with the website magazine Vents, that "Tonight" is his debut solo singer. He had recorded said single out in Pennsylvania with Joe Nicolo "The Bucher". Back in 2015 when the two met for the first time. The song has gone on to play on radio air waves out in the U.S. and U.K.
That being said, both song and video go hand in hand with one another. Each one playing off one another, because you have two versions to take away from. An audio in take while also a visual video in take as it were. Either or showcases the same formula that sounds decent and creative in the least part. 1403 has such a unique blend of talent and ability that it just flows right off the music, showing his real sides of being an artist. He has said also in that same Vents Interview piece about working with Joe Nicolo on various projects, and it shows as clear as day within this piece of solo work here.
"Tonight", is a solid piece of work, a fresh start and unique blend of music, that will continue to spark this start of a well promised solo career efforts from the likes of 1403. Be sure to keep an eye out for future working's done by him, it will surely be well worth a listen.
https://www.facebook.com/fourteeno3
By: Natalie Perez