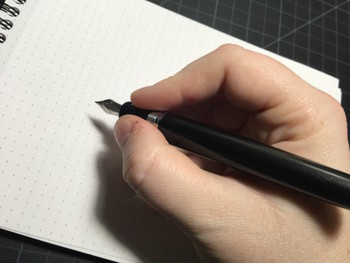 One might say that writing is outdated, with smartphones, tablets and computers taking over as the preferred method of recording. However, writing is an art form, and some people still prefer using good old pen and paper to record their thoughts. If your father is one of those people, he'll definitely appreciate having a good pen.
Fountain pens make for great gifts, whether for friends who love calligraphy or for people who just love to write. They are more comfortable using them than ball-point pens since you don't have to apply so much pressure to get ink onto the page. You can choose quick-drying inks that won't smudge as you go along. This article highlights a few factors to consider if you want to get dad a fountain pen this Fathers' Day.
1. Pen nib size
The first thing to decide is what size you want the nib to be – extra fine, fine, medium or broad. Closely related to this is the nib shape, which can be italic, round or stub. The nib is the most important aspect of the pen, so be keen on this. If you are buying a pen for someone, it's a good idea to do some recon on the style and type they prefer so that you get something they'll actually appreciate. Alternatively, you can choose a pen with several nibs allowing them to choose what works best for their writing style.
2. Ink delivery system
There are four common ink delivery systems for fountain pens:
• Converter – This is reusable and refillable with bottled ink. You get more color options since you can change fill colors, but they hold less ink than other delivery systems.
• Cartridge – These are disposable ink cartridges and are the most common type. Be careful as certain pens only use a specific cartridge size while others require cartridges of the same brand.
• Piston fillers – These work like syringes, allowing you to dip the nib into an ink bottle to refill
• Eyedroppers – These are almost similar to piston fillers, but you need a dropper to refill ink from the opposite end of the barrel.
Fountain pen ideas
Below are three fountain pen suggestions to get you started. You can get more suggestions here.
• Pilot 61096 – This pen has an 18c gold nib plated with dark metal and a long-lasting metal barrel. The nib is retractable and there's a concealed trap door to prevent the nib from ever drying out. You can choose the ink filling system, color of ink and nib. It includes a standard cartridge and converter so you can use your preferred ink brand.
• Waterman S0951660 – This one includes a 23c gold-plated stainless steel nib with a converter ink system. Nibs come in either medium or fine. Writing gives fluid curves and bold lines, with smooth ink flow onto the paper.
• Parker 1760841 – This pen has an ergonomic design that makes it comfortable to use, delivering clean and precise marks onto the paper. It includes a piston ink system so that you can choose from different ink colors and is excellent for those who are new to fountain pens.