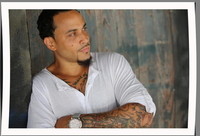 Straight out of Colorado bringing you an innovative now sound mixed with a lyrical assault that will have you listening to both the music and lyrics. SkoolboyBliss features Jason who is a director, actor, performer, humanitarian, hustler, artist, writer, philanthropist, dedicated to bringing realness and awareness back to the community. Edgy innovative lyrical artist painting pictures thru sound on Throne Motivation. This is a release that deals with the hard life of crime and death going on around him with relatives and friends. It takes you through the ups and downs of it all. Jason doesn't just rap, he sings and the main feature is his lyric writing prowess, which happens to be explicit but for good reason. If you're not into hip hop, r&b, soul, funk and rap, then starting here might not be the greatest advice. But getting here can follow, and if you listen before reading this you might agree it's all good. Throne Motivation kicks off with the big beats of "No Limits" with some recording of Mike Tyson thrown in, along with the first taste of humor and wit to be found in the lyrics, checking out with every word about it. The mix is evenly tight all the way for a rock-solid opening cut.
https://twitter.com/blissmusic4u
And the beat carries on with "Rated R" with its stories of the street and much tighter beats than on the former cut. It has everything including occasional electronic mic, which you either like or you don't in today's auto-tuned world. But the pumped-up factor leaves you ready for the next track "No Turning Back (featuring Greystone)" where things get funny and can either appreciate it or not. There is plenty to get off on for his audience and anyone can agree with that. If the opener doesn't jam as far as you're concerned, this probably will. It all depends on what you're looking for, but everything's called for and the production is second to none. Everything is spot on.
I also like "Comeback" with his insistence to express his persistence. The lyrics come on even funnier and stronger as you roll with another killer rap. By this point SkoolboyBliss already win you over and it isn't even half-way through the disc. The swanky "Lipstick On My Collar (featuring Greystorm)" kicks in for a few minutes romance with all of the bells and whistles, but it doesn't pop as hard as the other Greystorm featured cut. It does maintain the fun though, and that's one of Throne Motivation's energy sources. These are all fine numbers with different subject matter happening and a beat that never loses you. But most of all from my perspective there is "My Way (featuring Christina Dahl)." This is where it peaks the hardest and really gets my groove on the most. It's not that the others don't shine just as much, but this is where the singing talent gets a spotlight you can't deny showcases his vocal capabilities, as well as his lyric writing and the rest. This is well-backed by Christina Dahl takes the overall package prize. The smoother side of things is where this one hangs, and it comes recommended for this one track alone. So, the rest is a huge bonus as far as I'm concerned. Next release, please.
Kevin Webber