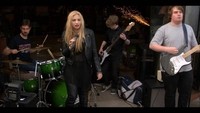 Riff Diamond is a contemporary blues rock band from Northern Ireland that draws on the best traditions of many classic and modern artists of the genre (Muddy Waters, BB King, Howlin' Wolf, Clapton, Hendrix, Gilmour, Bonamassa, Led Zeppelin, Free, Etta James and so many more) while still following their own, distinctively rocking and bluesy, path and developing their own sound. They aim to embody the "old-fashioned" values of well-crafted melodies and harmonies, thoughtful lyrics and virtuoso musicianship. They all believe there is a groundswell movement among the public. The album, Sapphire, contains a crock full of classic and hard rock, the kind that's easy to talk about. Rooted in the blues, it's a little monster of a disc. Kicking off with "Shadowman" which plays almost like a would-be hit of the past, but that is par for the main course of some of the record as it is. Coming on strong like vocalist Beck Baxter does, it's still early on to tell how good she really is. But it eases into things well enough to tell something lies behind the opening track that is worth finding out about. But they probably could've used any song to open with, it's still solid.
"Masquerade" is more of a moody piece with her vocals stretching out a little more but still not coming completely alive yet. The guitars burn enough to prepare for something beyond this more or less Melissa Ethridge sounding track. The guitar solo and volume swells do hint at more beauty beneath the brash. And that blasts right in on the following track "Diamond Heart" with a clear strike at what this band appear to really be all about. This contains some serious bombast and helps get a grip on their chops, with the vocals ranging over the top on this killer ballad with tons of moxie.
But it's still a very old school affair with some fire hot guitar work to keep it fresh. So, it's a good thing it gets even better on "29 Days" and doesn't stop from that point on. This is a lot smoother but more contained for the most part, which gives her a chance to grow on you. And pretty soon you're tapping your toe to an original tune worth waiting for. Especially after the epic showing of the previous track. It shuffles along nicely with some killer blues guitar work as her voice wales away into the next number "Kick In The Teeth" which is exactly that, a kick right in the mouth with rock 'n roll.
And the first of two covers can be found in "Whole Lotta Love" and everyone knows that is one of the all-time great rock 'n roll numbers, so, you better be good or not touching it. Well, they rock this pretty hard with their own twist, which you'll just have to hear for yourself. And "Count Me Out" is another one worth mentioning as well. She puts in one of her best vocals on this cool track. It also seals the deal concerning the blues-rock guitar chops of Conal "Tone Monster" O'Donoghue. And by the end of it all they wind up closing with another cover in "Hey Joe" which is in-turn not quite the effort of the former cover, but they don't murder it either. Check it and see.
TWITTER: https://twitter.com/RiffDiamond10
Larry Toering