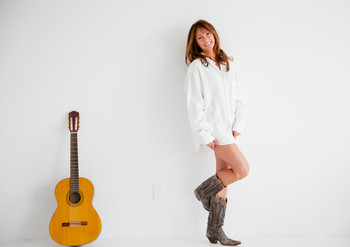 Canadian singer/song writer Idril Jean, is an artist that takes into account, soft rock, pop country, pop and folk as her genre choices for her music creativity. Thus, she has gone on to write and record for her latest EP she calls "Let's Get Crazy". She then goes into great detail about how she got started in music, to what instruments she plays, down to the visuals within her music.
NP: Where did you come to get your namesake Idril Jean? Why did you think that using your own name for your music career was the right choice?
My artist name comes from my children's last name, which is 'Jean'. Idril means 'Annie' in Elfe name. I think that pseudonym goes very well with my personality. I'm a persevering person!
NP: When and why did you start playing?
I started writing and singing 10 years ago, I made ten songs in one year, then I stopped because of several problems happening in my life. In 2013, an event happened in my life that made me realize that I had to follow my passion to sing and to write songs again.
NP: Which instruments do you play?
My instrument is my voice. To be honest, I do not really play an instrument, I only play the guitar for fun. Foremost, I'm a songwriter and singer. My first talent is writing lyric and singing the melody a cappella. When I sing my melody a cappella, I determine my tone and rhythm this way. After that, I sing it to a good musician!
NP: What was the first tune(s) you learned?
The first song I learned is 'If you're not in it for love, I'm out the here' from Shania Twain and lots of other songs from her too! She's my reference in music.
NP: How did you achieve this career?
For 3 years, I spent all my free time between work, family and other to write songs.
NP: Which famous musicians have you learned from and that you admire and why?
Daniel Désilets (Sublime Sound Studio) is a person I admire. He plays a lot of instruments with expertise and he's adapted to several musical styles.
NP: Is it important for you to paint visual pictures with the songs?
Yes, maybe, that's help to give all the sense of the song.
NP: What's the story behind the song turned single for "Let's Get Crazy"?
To start, I wanted to create a fun summer song. Like me and everyone in general, we work hard and are in a whirlwind of stress. We all know that it is important to let go. It sums up my song.
NP: What would be the cinematic equivalent of the EP "Let's Get Crazy"?
Not quite sure.
NP: What's your take on the EP "Let's get crazy" as a whole?
My EP is about the whole experience that usually touches many people. The purpose of my songs is to put a positive side to some the events of life.
NP: What's your favorite song on the EP right now?
My favorite song is 'So listen to me'. The creation of this song has a lot of meaning for me!
NP: What personal advice would you give to someone wanting to pursue this career?
I could give lots of advice but the first would be to believe in yourself.
NP: If you had to do it all over again, would you still choose this career? Would you do anything differently?
Certainly not, it's the opposite! If I would have known before I had talent in the songwriter I would have led me further into music as a being younger.
NP: Is that your final answer?
Sure!
By: Natalie Perez