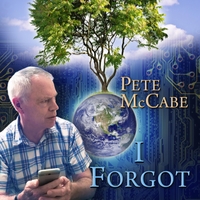 "I Forgot" is a song that has a strong focus on lyrics with complex music showing a number of influences including folk, Beatles and jazz. "On the Stage" is one of those tracks you could bob your head or tap your feet to. It has melody, upbeat tones, and catchiness flowing through it. It's a track you could even hear possibly played in a club or at a party of some sort. That's the precise energy that this song has going for it. The instrumental music portion of the track is again very catchy and upbeat, with the keyboards and bass lines working hand in hand with one another to keep the song in check with itself. It has the instruments and vocal cords working at an urgent pace and feel, yet it becomes mellower as the song plays out.
"I Never Will" is a song extolling the virtues of seizing life by the horns and pursuing its potential for adventure. It delivers these sentiments with equal parts youthful brio and an upbeat tone that is impossible not to like. Making music like this work for a widespread audience demands that the performer have the required amount of personality to get things over, and he certainly isn't lacking as a vocalist or songwriter.
Audio Listening Link: https://store.cdbaby.com/cd/petemccabe
"What Makes Me Cry" is one of the wiser, more knowing tracks on this release that shows a great talent for taking established elements of this genre and making them personal. The song's melody comes to us immediately courtesy of some tasteful instrumental.
"Siren Song" is a sensitive track that you either like or you don't. And before it's all over you probably will have some favorites but not feel like they're really better than the rest.
The album as a whole is a tightly knit collection of songs with spot on production, giving the songs the clarity they deserve to reach their full potential. Every instrument has been recorded really well with a thumping and warm bass and drum sound making the rhythm section sound really strong.
The guitars are precise and give each track a feeling of completion and drive, particularly on "Doctor Visit", the guitar tone is bright, warm and well-rounded capturing the mood of the track.
The same can be said for "Song of the Turtle" which is a slower paced track that offers something unique in terms of the structure of the song which changes in tempo throughout and is a well thought out and recorded piece of work.
The next wonder is if he saved the best for last, and maybe he didn't. It sure isn't the worst thing on the record but I'm definitely not going to call it the best either. So it doesn't answer my question, but it's still a pretty good song and not a bad way to end the disc. "Vacation Song" is a hit and miss for me but might be the next person's cup of tea. It does have some good ukulele strumming but nothing stands out other than that. It does have some good guitar strumming but nothing stands out other than that.
Overall this a solid album from Pete McCabe, I suggest you give it a listen.
Site: http://petemccabe.com
Social: https://facebook.com/petemccabesongwriter
James Choice