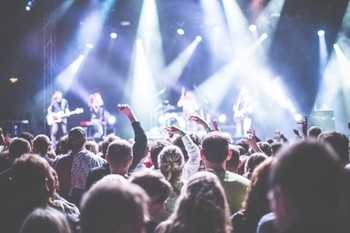 With the summer season bringing with it the opportunity for fun under the sun, consider holding your next concert in an outdoor venue.
Celebrate the Season
Relish the long days and clear, vibrant evenings by enjoying music on a green, verdant expanse of grass. Let the sun shine or perform with the stars. Like dining, picnics, and sports, everything is made more special when it's enjoyed outdoors.
Go Loud and Proud
When you play in an outdoor venue, you can really push your sound to the max. When you're away from the neighbors, you can get as loud as you wish and need to be, which is the dream of musicians and fans everywhere.
For Those Who Like It in the Wild
When you play in the great outdoors you can go back to the good old days when people could smoke and dance and drink with abandon. Ah, what pleasures! When you are in nature you can be as free as you wish to be. Imagine your fans enjoying your music and comporting themselves as openly as they desire as you inspire them to experience the concert. This is what a summertime event should be; the stuff of which memories and legends are made.
Get in Touch with Your Inner Pagan
Savor the caress of the breeze against your skin. Enjoy a carpet of grass that shows the evidence of loving lawn care so that it is a lush green covering. Delight in lighting that creates a unique ambiance.
An outdoor venue is a chance to delight all of one's senses. Imagine your eyes feasting upon the landscape, the sound of music and laughter, the scent of freshly mown grass, the taste of your favorite libation. This work of art is the perfect outdoor concert.
Come Early, Stay Late, Be Loud
Working indoors is fine, but when you create a musical event outdoors you can be much more creative in many elements that make up the musical experience. You can open up the venue for seating and for dancing. You can set the time of the event with greater flexibility. You can move the stage area around to different levels and positions. You can play with the placement of speakers. You can come early, stay late, and be loud.
This summer, enjoy an outdoor concert venue for the most magical and major of musical events.