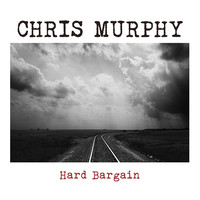 A powerful introduction meets you when you start to listen or watch the live video of 'hard bargain' by the talented gentleman Chris Murphy. Really tranquilizing notes and soothing vocals. Surely, he must be really good at playing the violin, as he does it so easily, something that can be so tough sometimes to some people.
Personally, this track is a ten over ten rated music. Why? This is very evident as the song proceeds. Well organized high and low pitches.
The audience seem captivated with the performance in the live video. It as well calls to action the audience who respond by shaking and enjoying the song a little.
Let's look a little deeper; Music reflection is quite the exploration for Chris Murphy. He has been composing and performing for over 15 years. However, he is aggressively expanding his wide range of musical styles and influences that come to him time and time again. He has taken into account the likes of jazz, blues, country, classical, ethnic, and electronic.
Thus, he is one prolific composer and song writer of sorts, which has been sought out for various collaborative projects for music, film, and television. It does not stop there though for "Hard Bargain", which is his most recent piece of work. Interestingly, the music track footage is shot as a live show compared the norm of heavily edited videos.
This gives it a sense of touch and reality, as he punctuates the moment with energy and personalization, playing and feeling the song all the way. He displays this by tapping along as he plays different well harmonized notes, which speak for themselves during the performance.
Without forgetting, Chris occasionally pauses in his accompaniment and fills in with a vocal. This helps break the monotony of instrumental and vocals, then immediately hooks up his audience, hence attracting, captivating and maintaining the audience concentration from the start to the end of the performance.
Repetition has been creatively used in the track by Murphy. This is quite entertaining as it gives rhythm to the music which the audience can easily follow. As well, it stresses on the main message conveyed by the music. Notably, the words, 'it's a hard bargain till the end… am gonna pay if you don't pay…'
May be you are relaxed on a coach, or meditating, or just need a relaxing music in a quiet place, then you should consider 'hard bargain'. I can say so because; I couldn't help nodding along all through the music. It's one that makes you want to mark all the details of the lyrics, and dance to the tune of every note delivered by the violin.
Music as an art can be very enjoyable when handled by perfection and pleasure, items fully displayed by this exceptionally talented performer. If maybe you were present in the hall where he performed, you would be mistaken if you judged him by the casual outfit way before witnessing what his fingers and creative mind can handle.
I love this song. You should check it out.
By: Amy Lawrence