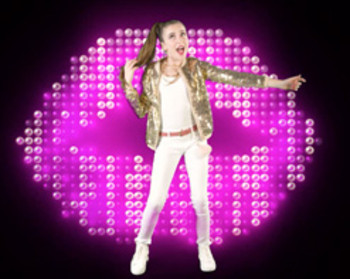 Most 12-year-olds are just beginning to figure out who they are, but Ashley Lanzoni has already spent years working hard to pursue her dreams. She moved with her family from Boston to New York City to continue her training in voice, acting, and dance, and has since appeared on stage and in several recording and commercials, as well as being a host for Walden TV. On top of all that, Ashley's been involved with community service and fundraising work for many causes ranging from American Cancer Society, PATH Fund, Suicide prevention to anti-bullying efforts. Recently, Ashley was in the feature films Joy and Detours, and now, this spunky, passionate, adorable young teen is ready to return to the screen with her debut music video: a cover of Meghan Trainor's hit song "Lips Are Movin".
Trainor released "Lips Are Movin" as a single from her 2015 debut major-label album Title, and it's since sold over four million copies and reached Number 4 on the US Billboard Hot 100. Ashley Lanzoni's take on the track keeps the bubblegum pop-meets-doowop feel of the original, while adding an updated, youthful ebullience with her vocals.
Ashley's "Lips Are Movin" music video begins with her sitting on the couch with her dog, Zoe, a maltese like Meghan Trainor's dog, singing the opening lines of the song. She's then walking through Times Square with a boy- who suddenly gets a message from another girl! The boy continues ignoring Ashley when they go out to eat, and Ashley returns home from the "Worst. Date. EVRRR!!!" to a hug from her equally talented real life big sister Haley, and a sympathetic Zoe. On their way to the subway, Ashley tells the boy she's "done" and takes the train to Coney Island alone, where she sings and dances along the boardwalk like a scene from Grease with her sister, Haley, and friends. The boy later tries to apologize and win her back at Grand Central Station, only for her to sing, "I might be young, but I ain't stupid"- Ashley (rightfully so!) wants a boy who will treat her right.