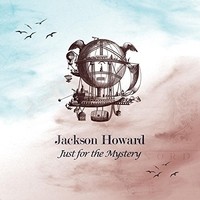 Have you ever wondered what you would get if you take a mixer and put some blues, have a bit of a rock shake and some freshness? This is what Howards new single 'just for the mystery' sound is like; you can bet John Mayer has nothing on this guy, trust me.
A smooth composition with some jazzy guitar chords and riffs, piano and vocals that are accompanied by the mellow lyrics which contains some deep emotions towards that young-age love you grow old with also is a nice track to play in any occasion and have a nice time, since is incredibly enjoyable.
When I hear this song one of the things that comes to my mind are the neon lights, the streets and the nights of Chicago city. I can also think about of the ending of a romantic comedy movie with this track being played at the background of that happy ending followed by the fade to black screen and the song still playing throughout the credits.
You should hear it yourself just to see how you feel about it.
What makes this song so particular is the fact that you can actually understand every word Jackson says, this is a great way to get involved into the whole story he's telling, some other singers these days, they sacrifice good diction for the sake of pulling big high notes or really intricate melismas and runs just to impress… ugh!
Anyway, this is not Jackson Howard's case, everything is right where it has to be, perfectly executed, balanced and at it's right moment, lots of clever moves were done right there for us to hear and appreciate, kudos for that.
As for his vocals, they're very consistent and technique wise, the choirs of the song are beautifully harmonized, and near the ending there's some falsetto action going on, without being loud or unpleasant and as I said before: no word was harmed in the making of this song.
The cover art for this single is the only thing that I would maybe put into some questioning, since it does not make me think at all in the content of the track, although it looks really nice, creative, imaginative and dreamy, and the colors choice are well picked, it may not represent the track in a visual way (if you're a graphic designer or visual artist you'll get what I'm saying), it could work for the album cover with another title, but not for the single itself, what do you think?.
To conclude, all I can say for sure is these two things: I broke the repeat button, and… I want to hear more! Jackson Howard is definitely one to pay close attention to, after listening to this song you will only expect for the best to come from this guy.
Make sure to check his social media platforms to stay tuned with further releases, tours and news.
By Jose Carlos.