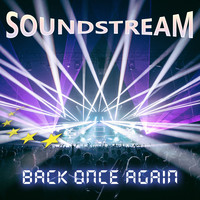 EDM or known to many as electronic dance music has more than one genre embedded within its genre. There is another known electronic genre known as eurodance or euro-nrg or euro, which is an electronic dance music genre that originated in the late 80's out in Europe. It goes as far as combining multiple other genres, techno, hi-nrg, house music, and euro disco. So those genres with the EDM concept on top of the eurodance, as well as another genre called hands up. There is simply no way to telling how much more genres this one type can withstand on its own. But what this all sorts itself out to is one name Soundstream. A little band from of all places the Ukraine, with a release they call "Back Once Again".
Is the song title, and the song in question that was made into a single. But it is more than that, for this one single was made into one single, then it had its variation of singles, in the form of a single release, but in the form of an EP also titled "Back Once Again". That single EP release consisting of 7-tracks all of the same song, but in various forms, ranging from the Radio Mix, Classic Eurodance Mix, EuroDJ Mix, Valeriy Khoma Remix, Linkorma Remix, C. Baumann Remix, and the Rodri Euromaniako Remix.
Preview the whole single visit Beatport: https://www.beatport.com/release/back-once-again/2011465
So you get the same song, seven different times, in seven different ways. Which version of the song is the correct way and or version. Well that would likely be the Radio Mix version. For that is the only take on the song, that sounds close enough to the standardized version of a track that it can get. If any of that makes any sense at all mind you. In any case though, whether that song version of this track is the correct proper edit, this whole release of this one track all sound the same to me at least.
Soundstream is a band that does consist of a trio of members, vocalist Ann, DJ Spacedreamer MC, and DJ FatCat on keyboards/arrangements. The frontwomen Ann on vocals, does a fair amount of work, here and there throughout each of these variations of the song. Her vocals are crisp and clear quality, that sooths the music, yet allows it to be catchy and upbeat rather quickly. While the other members in the form of the DJ's do their part, kicking up the song some notches, increasing its quality to sounding more uplifting and catching to the listener.
As mentioned this song that is "Back Once Again", no matter which version you listen too, is pretty much the same song when listening to it on this release. No matter it's remixed version you get a different sound effect for that song in question. It just changes the tone and sound waves of the track. The lyrics are the same, it is just the music that sounds completely different each time listened too. Each version of the song is interesting and sounds rather nice, but this type of music may not be for everyone out there. Again it is nice, has decent quality to the songs, they sound decent enough, but it just may not be for all to hear it. "Back Once Again", is a release with a song behind it, by an band called Soundstream that is another up-and-comer to get themselves out there, for all to hear, with their form of upbeat antics with hyper active tones.
Website: https://www.facebook.com/soundstreamband/
It may work for some, but not so well to others. It just varies depending on the individual listening in to the music. It varies from person to person, is how this music sends itself off, when it pulses outward its creative flow of musical tones and tunes it has going for it.
By: Natalie Perez