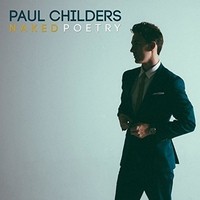 Nashville homegrown, Paul Childers doesn't recall any of the traditional country or rockabilly often associated with Music City USA. He does, however, neatly fit into the linage of top flight musical talents produced by the city and his considerable talents have earned him the notice of many industry professionals in relatively short order. His thirteen song debut Naked Poetry exhibits an astonishing vocal and interpretative talent and its surrounded with music geared to please a broad-based audience. Childers' songwriting touches upon a variety of themes universal to popular song, but he brings an unique quality to these longstanding subjects that is likely pulled from his life's experiences. He couldn't have come up with a better album title for this collection really. There's a lot of familiarity here, but there's a sense of purpose and personality that redefines these aspects into something much fresher. This is a brilliant opening statement for his career.
The album shows off some of its narrative flash with the first song "Music Pulls You Through". There's a relatively standard theme for popular song, in multiple genres, but Childers brings something of himself to the song distinguishing it from similar minded fare. Listeners get their first taste of his songwriting talents working at peak ability with the second track "The Art of Being Twenty". Childers' confident vocal guides listeners through a smart and deliciously self-deprecating bit of songwriting "Why Don't You Stay?" is like a slowly undulating wave – it peaks at regular intervals, but does so in such a modulated way that it assumes a sort of unexpected orchestration. "At Our Own Place" has a luxuriant sound built around a nice pocket groove and well interspersed flashes of piano. The chorus is particularly strong and gives the album one of its sharpest hooks. There's a nicely handled bit of lead guitar in the song's second half. Naked Poetry's centerpiece number, musically, is "My Love of the Rain". Listeners can base that on more than just the length – running just a hair under five minutes makes it the album's longest track. It occupies a much more cinematic place in Childers' imagination than other musical efforts and the fragile weave of its different instruments, carefully balanced against each other, flawlessly dovetails with his exquisite vocal.
There's a surprising Paul Simon influence discernible in the first half of "Emma", but Childers moves on to mold this song in such a way that it becomes one of Naked Poetry's more memorable stylistic gems. "No One Goes Dancing" shares some of the same impulses towards orchestration as the earlier "My Love of the Rain" before seamlessly slipping into a keyboard spiked R&B groove. The gradual escalation of the musical tension coming with the bridge resolves itself nicely with another hook-laden chorus. "Disclosure" is a much darker and more outright intimate affair than the earlier songs, but it retains all of the same musical qualities that recommend the other songs. It's more moody than outright hopeless or despairing and Childers' voice haunts the lyric with wraith-like attributes. The album's second to last song, "Throwing Shade", ends Naked Poetry on an impossibly jaunty note considering the lyrical subject matter. It's an interesting concept he pulls off with great flair and it comes at a great place in the album's running order. Rather than submerging his phrasing with bitterness, Childers sings with the exuberance of a man who understands an essential truth about some kinds of people. Naked Poetry shows a broad based music and lyrical understanding that even longtime performers struggle to maintain and the uniformity of its quality makes it one of the year's best releases.
FACEBOOK: https://www.facebook.com/PaulChildersMusic/
Shannon Cowden