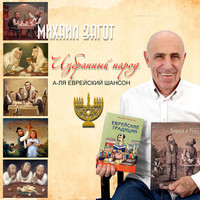 Mikhail Zagot goes for a charming, celebratory style with the timelessness of "Chosen People". Over the course of the album Mikhail Zagot opts for a sense of play, letting the songs unfurl in triumphant colorful ways. Arrangements twist and turn, full of surprises as they neatly incorporate elements of folk, pop, jazz, and classical into a coherent whole. By opting for such a colorful assortment of sounds, Mikhail Zagot's voice is really allowed to become the focal point of the entire album. Indeed, his versatile singing is easily the highlight of the entire album.
"Избранный народ" opens the album on a triumphant note, with fanfare nicely adding to the sound's overall power. Folk origins are explored in full on the nimble shuffle of "Биробиджан". A spirited passionate dance defines the careful delicate work of "Сказала мама". Gentle with a jazz-like grace is the mellowed grooves of "Запретный плод" where the way the song unfurls gives it a graceful, sunny hue. Thoughtful in nature is the introspection of "Оговорка по Фрейду" where the many layers of sound come together in a brilliant, dazzling way. Light percussion anchors the journey of "Когда придёт мессия". Rather giddy in style is the energetic "Вечный жид". Bringing everything to a close is the ambitious light house variations of "Еврейская солонка" where the song has glorious flourishes of melody.
https://itunes.apple.com/ru/album/%D0%B8%D0%B7%D0%B1%D1%80%D0%B0%D0%BD%D0%BD%D1%8B%D0%B9-%D0%BD%D0%B0%D1%80%D0%BE%D0%B4/id1228687579
https://play.google.com/store/music/album?id=Bfmlep5ssjsfox6owy63fcuos2m
With "Chosen People" Mikhail Zagot sings in a timeless, unforgettable way about the past while pointing towards a glorious future.
By – beachsloth.com