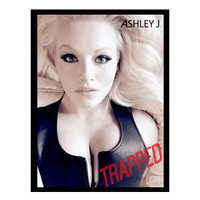 Orlando based artist, Ashley J self-penned "Trapped," and worked with legendary songwriter/producer and multi-platinum Grammy and Emmy winning, Narada Michael Walden to produce her new steamy single. The song was recorded at his famed Tarpan Studio complex in San Rafael, CA. Ashley's sultry pipes gradually build a gravitating tension throughout the song, until it hits the exciting and uncontrollable bridge which reveals her scintillating and broad vocal range. "Trapped" was released independently (May 2017) on Ashley J's own production company imprint, Bombshell Music, Inc.
URL: http://ashleyj.net/
Bringing the great Narada Michael Walden aboard to produce is not something everyone gets to do, so, I was immediately taken by surprise, chance meeting or not. As a big fan of his collective works, especially as a drummer, this is an opportunity to review something related to him, as Ashley's voice shines on this new single. Normally it wouldn't be as up front concerning who produces, but anyone would want him at the helm. And this is a long way from Ashley J "writing songs on the bathroom wall." She's been on the rise, and this single is about being cornered into a mesmerizing trance. Her clever and hypnotic songwriting style is extremely captivating. Combine her writing with her lush vocals and Ashley basically pulls you into a deep trance herself.
The track kicks off with beats and finger-snaps, which is very percussive but it picks up at the break and goes right into the chorus, repeating the title with after bits. The backing music not only sounds like something Walden would do, but she carries her own and cuts the vocals right through the mix. Being from the 70s and dominating in the 80s and 90s, Walden brings an old-school vibe to a modern pop and R&B singer. And although this is a light tune, it has a lot of cool effects and even has a growl loop slipped into it. That's going pretty-far to layer it with any sound that simply fits behind her voice.
He makes it all sound so easy, as usual. But that goes for everything about it and Ashley J's timing to have such a pro could not be better. He's produced everyone from himself to Whitney Houston, which he went onto be famous for, but continues to forge on. This could be just the beginning of another working relationship though, leading to more work together. One can always hope anyway. But having luck on her side is not all there is to it. This single doesn't leave her past work behind, it adds to it and gives promise of more to look forward to. This track works on floors not only made to dance, but plays in any environment.
That usually isn't the case with such catchy tunes that you certainly can dance to, but an effort was clearly made to mainstream this enough for jazz. She doesn't get stuck in one groove and that's another testament in a one-dimensional world. And if I were to sell anything short it would be that the running time could use another minute between the music and vocals. But singles usually always get a pass for that. We used to buy them on twelve-inch vinyl and it didn't make a difference then, but they'd often be backed with a longer version. It wouldn't be a bad idea to release an extended mix to prolong the power of "Trapped."
FACEBOOK: https://www.facebook.com/AshleyJeanMusic/
Larry Toering