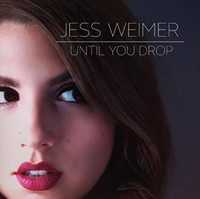 Jess Weimer is a nobody who wants to be somebody. Hence why she left her hometown of Wichita, Kansas to pursue her dreams of music creation. Heading to the wonderful lime light that is Los Angeles, California, where her background ranges from quite a bit of activity such as a bluegrass-fiddle band, to musical theater, to chamber orchestra, to singing in the shower or studio, where music is created of course. That said, she went on to write and record said music, where she became a singer, song writer, as well as a violinist, guitarist, part time rapper, and a traveler of sorts. Perhaps making her way down the yellow brick road at least there is one in her eyes.
When it comes down to all of this, it all leads to this, a debut release in the form of an EP called "Until You Drop". Where she has set herself into full time music person, as her music career takes full focus and attention upon her life. The release itself consisting of one of the songs made into a single with accompanying video called "Telltale Signs". That song alone is what set her apart from a lot of the other up-and-comers upon this music scene currently. The video itself is rather interesting and really gives you that exposure and experience to who Jess Weimer is as a person and a performer.
That song though is rather catchy, upbeat, and really brings forth that approach Jess is aiming for with her indie pop genre choice. Her way with this genre is really eye and ear opening for the listener. She is able to use her skills and mind set to go full force with her music creation abilities and have a song that is very smooth and flows well on its own. Whereas the rest of the EP has the rest of the songs offered, which include such as "Solid Ground", "I Will I Won't", and "With You I Belong".
These song selections besides the one released already, are really what make up this release as a whole. Referencing that it is indie pop driven but has some other influences behind it, such as some jazzy tones that highlight and heighten Jess's vocal skills. With that said, the upbeat instrumentation played throughout each song is done on such a well produced production level of creativity it brings out a sense of style and sound, that is a true signature to Jess as a person, not just as an artist.
Overall Jess Weimer's debut EP release of "Until You Drop", is unique, really catchy, and is able to take its lyrical context using its melodies of choice to build upon everything, basing it altogether into something that really resonates with people. It has that experience of reminding all that we are people too. We all have stuff to deal with and have to face but hearing it through with music we can relate if not even for a tiny bit. That is what Jess has done with her music, and this EP release, it is something truly captivating for all to hear, because it is so relatable if not remarkable.
By: Natalie Perez – natalieannnperez@gmail.com