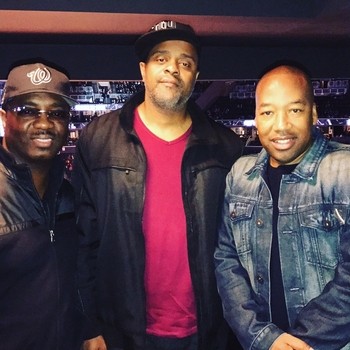 It has been a while since artist William "Quayshaun" Carter used a cardboard box to breakdance or a boom box to rap to. But he has taken that same passion for music and dancing to a completely other level actually much higher than he ever imagined in his exciting career in the entertainment industry.
A native of the "boogie down Bronx" he grew up during the hey-day of Hip Hop when it was more of a movement than a way of making money. Along with his brother who was a key DJ in his own right they took on the craze with much fervor and with any opportunity they showcased their talents. Quayshaun displayed his knack for being lyrical and creative with words while his brother was a master on the wax.
As he grew along with the music he began to make key connections with individuals in the business. He was blessed to learn the ins and outs of the music world through giants like Darren Chandler, Jimmy Jenkins and Dennis Kelman. Quayshaun admits he owes a lot to these men for their guidance and professionalism.
"They taught me the music business like no other. My manager Darren was a great teacher along with Dennis and Jimmy. In the second phase of my career I must add also Frank Toro."
After picking apart what he learned he would release his first single as an artist in 1990 called "Party Slammin". At the time he was signed to Epic Records where he would tour with such acts like Mary J Blige, Father MC, Boyz II Men and others. His talents would not go unnoticed as he would branch out working with Timland Records and collaborate with artist Coolio. This would lead to his meeting Frank Toro at Tommy Boy Records and developing a long lasting relationship.
Around this time is when Quayshaun wanted to work on the producing / consulting side of things. He would work with Dennis Kelman at BMG Music and also with Brownstone where he met Lauryn Hill. It is noted that he convinced Lauren to go solo which she essentially did and became a success story.
All this inroads made Quayshaun realize he had a knack for managing and consulting artists and developing business deals. He along with partner Greg Day founded Sleeping Giant Group.
The company was set up to help promote business ideas not only in the music industry but in many areas. They had one deal with a Japanese company that wanted to push the mini disk but even though the idea did not progress they developed a great contact that offered dividends in the long run. Sleeping Giant also was instrumental in helping the Sioux Nation sue the Army for using their land for personal gain.
On the music end they managed acts like Freddie Jackson and Terrell Hicks not to mention promoting divas like Brittany Spears and Christina Aguilera. The music end of things was always the biggest draw for Quayshaun. He managed Felecia Lindsey the wife of artist Lazy Bone (Thugz Bone & Harmony) under his own company Hood Management. He not only consulted with Lazy Bone but toured with him. Through that company he also worked with The Ying-Yang Twins, The Nappy Roots and others.
In 2014 he put out a few releases via Sony/Red that were distributed through Capitol Records. After building on that and his new venture Que Records, Quayshaun looked to grow the company by developing artists and working on films. He is currently developing artist Marissa Ann and collaborating with Miramax on some projects involving such talent like Toby McGuire, Samuel Jackson and Vin Diesel. The soundtracks for these projects will be under the Que Records banner. He had also begun a charity called "Our Children Love Always" which is geared towards raising funds to pay for treatment of cancer patients that families cannot afford. Quayshaun is always looking to give back to the community through consulting, lecturing at Colleges and music venues. He has become a force in various industries and is proud to be able to make a difference for anyone that comes his way.
by Nick Christophers