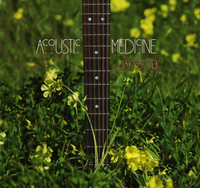 Too often today, instrumental albums promise greatness and fail to deliver because of lacking player skills, sub-par arranging and writing, and a plainly poor overall flow. Thankfully, this is far from an issue in Jakob Pek's Acoustic Medicine album, and what might be its top track, "Sweet Memory's Melody." For once, to the benefit of countless fans, an acoustic track (and its album, once again) has both "talked the talk and walked the walk"; the following review will describe how and why the mesmerizing work pulled it off.
"Sweet Memory's Melody" makes clear from the start that it isn't a "wild ride", filled with rapid-fire chord progressions and head-banging rhythms. On the contrary, the slow-and-steady instrumental work initiates with a relaxing and nearly medicinal tone from the get-go—one that does its album title justice and then some. Moreover, for as relaxing as it is, the six-minute track doesn't ever become stale, boring, or bland. This is largely due to the playing abilities of Pek, who seems to be equal parts an acoustics innovator and master. The sounds he can convince his acoustics to emit are breathtaking, and once again, they assure that every second of the song's three hundred and sixty seconds is fresh. He should consider offering lessons as a side business if he doesn't already, as there would likely be a line of players begging to sign up!
But, to define "Sweet Memory's Melody" solely as a superb instrumental piece would be a disservice to its wide-ranging appeal and ability to stimulate emotion, thought, and feeling. As was stated initially, the piece is, as advertised, somewhat medicinal. Listeners can expect to be taken away on a journey of happy memories, positive mental explorations, and plain joy when embracing the track.
Furthermore, the diversity of these elements cannot be understated, and they represent what is perhaps the greatest strength of "Sweet Memory's Melody"; that the song can just as easily accompany personal meditative thinking as it can a powerful film scene, and a happy memory just as it can one's stress-relieving efforts, is a testament to its remarkable versatility. To be sure, this versatility cannot be easily found today, and in coordination with the song's inherent musical value, it stands tall as a unique and defining characteristic unfounded in other, recent musical endeavors—instrumental and otherwise.
Anyone interested in escaping from the day's troubles, enjoying the fond memories of days past, and/or experiencing one of the finest instrumental works to release in some time, should check out Jakob Pek's "Sweet Memory's Melody", as well as its full album, Acoustic Medicine. The unique, fun, and addicting acoustic effort is all but sure to impress even the most severe of listeners—not only because of its tremendous overall quality, but because it may be the effort instrumental (and acoustic fans particularly) have been waiting for to ignite a revolution of the genre.
Only time will tell, but for now, "Sweet Memory's Melody" will more than suffice as an instrumental masterpiece for fans all around the globe.
9.5/10
https://www.jakobpekmusic.com/
By Max King