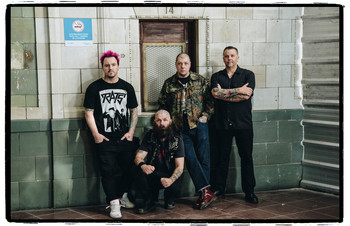 Rancid has shared another new song and video today, this time for the band's political anthem "Telegraph Avenue". Akin to the video for the band's previous shared song "Ghost of a Chance" the video features the band getting together and playing in a garage.
The new Rancid album Trouble Maker is to be released on June 9th via Hellcat/Epitaph Records. This is the ninth studio album for the punk legends and the follow-up to 2014's critically acclaimed …Honor Is All We Know. Trouble Maker was produced by Rancid's longtime producer and founder of Epitaph Records, Brett Gurewitz.
Trouble Maker will be available on CD, digital, and vinyl formats. The deluxe digital version will include two bonus tracks "We Arrived Right On Time" and "Go on Rise Up". A vinyl deluxe version of Trouble Maker comes with those tracks on a bonus 7". Pre-orders are available at rancidrancid.com.