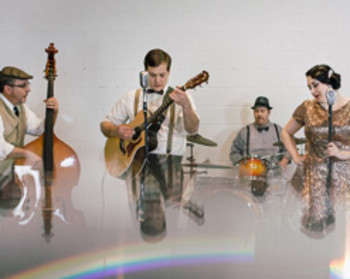 A quick listen to Metro Detroit band ATMIG and it's no surprise that their name- which stands for "After The Money Is Gone"- is a Talking Heads reference (specifically, it's a line from the song "Once In A Lifetime" from the 1980 album Remain In Light). Described by CW50Detroit as "folky, singer-songwriter tunes with poetic lyricism and raw vocals" with "shoegaze qualities dropped in there that make this a great psychedelic-folk listen", it's both loud and soft, both raw and produced, and completely heartfelt. ATMIG's other influences range from modern indie rock (Death Cab for Cutie, Modest Mouse, and The Shins) to new-wave and alternative (The Cure, Smashing Pumpkins, Sunny Day Real Estate) to folk singer-songwriters (Johnny Cash, Elliott Smith).
Singer-songwriter Tobias met Otto (bass/chatter) through Craigslist back in 2012; however, it wasn't until 2016 when the two booked some shows that they were joined by Otto's long-time friends Dave (drums) and Julia (vocals). ATMIG's lineup is now finally complete with the addition of Julia's friend Phil (bass/ cigar box/ mandolin), and the band are set to release their first official single "Trip" on 4/22, which has the distinct honor of being the first non-label release pressed at Jack White's new Third Man Vinyl Pressing Plant in Detroit!
Recorded and mixed by Tim Smith at Soundscape Studios in Royal Oak, Michigan, "Trip" is driven by a jangly acoustic guitar part, with simple bass and drum lines to tie it all together. Tobias and Julia sing about wanting to escape and "take a trip down someone else's awesome life"; their gentle harmonies give the song a touch of fervent innocence.