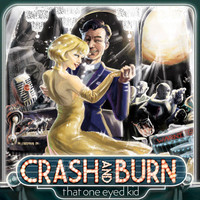 Crash and Burn is the third EP release from That One Eyed Kid, Boston based singer/songwriter Josh Friedman's personal "band" project, and it's apparent he doesn't feel restricted by an EP's relatively limited scope. The opposite is true. Friedman, instead, seems emboldened to get as many of his best ideas worked into the five songs but avoids making the customary bad choices typically accompanying such a move. The self-assurance coming from these songs is unmistakable. It's the product of natural talent and the project's previous recordings, but Friedman's touring through both the New England and Midwestern areas undoubtedly honed his act to its current sharp edge. Everything is focused on Crash and Burn; nothing is extraneous. Josh Friedman comes off as a recording and performing artist just beginning to hit his stride in the studio and it makes for a highly charged listening experience.
URL: http://www.thatoneeyedkid.com/
"Bright Big Red" begins Crash and Burn on a memorable note. This is groove-centered pop with melodic synthesizer passages neatly dovetailing into one another. There's an unity in Friedman's approach that never risks sounding cheap – this never feels like a self-conscious foray into electronic music but, rather, like a natural outgrowth of Friedman's musical aspirations. He has latched onto this sort of instrumentation out of necessity, not commercial convenience. "Burn Out Right" has a brighter and more assertive presence than the first song and the vocal reflects that. Friedman brings a real vigor to the singing that exceeds what we heard with the first number. This is obviously, as it references the album title, one of the key tracks on Crash and Burn and the theory is further strengthened by the forceful singing Friedman brings to bear. There's a hint of a golden oldies influence heard in the track "Native Advertising" but That One Eyed Kid gives it a distinctly modern gloss. The arrangement has a denser approach than earlier numbers, but Friedman deftly orchestrates the disparate elements of the composition.
"No Touching" revisits the groove oriented approach of the first track in a much clearer way. This is Friedman turning his creative attentions to something one can only label as electronic soul and the unique stylistic hybrid works from the first thanks to the innate command he seems to possess over both forms. Crash and Burn gets the ending it deserves with the track "Rewind". Friedman's singing reaches new heights with this song and his emotive flair seems to derive much of its power from the personal natural of his lyrical content. He isn't just a talented musical composer – Friedman has, likewise, discovered a truly personal style with his words that enables him to convey serious themes in an intimate, yet highly accessible, way. That One Eyed Kid's latest EP Crash and Burn has creativity to burn and it's obvious Josh Friedman has discovered an ideal vehicle for expressing his talents. His project seems to be expanding its ambition a little more with each new release and Crash and Burn ranks as his most fully realized effort yet.
INSTAGRAM: https://www.instagram.com/thatoneeyedkid/
Michael Saulman