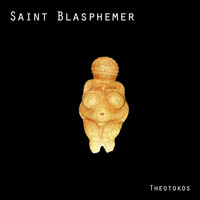 With "Theotokos" Saint Blasphemer delve deep into grunge's inner spirit. Throughout "Theotokos" Saint Blasphemer show off their impressive chops nicely matching the anxiety and energy that pours out of the pieces. Lyrically the songs work through a vast deal of difficulties that life inevitably forces people to confront. Full of passion the way the song thrash forward with great fury makes them teem with life. By opting for such an approach the entire collection possesses a well-crafted narrative one that helps to transform the pieces into small parts of a singular whole.
Stream "Theotokos" in full at Bandcamp: https://saintblasphemer.bandcamp.com/album/theotokos
The full weight of the collection starts immediately with the Tool-informed spirit of "Collapse". Growing ever larger the song builds itself into an outright frenzy. Everything simply works from the intricate percussion to the insistent guitars whose taut sound adds to the tension of the song. Deserving to be blasted at the highest possible volumes is the bombastic "Low" where the chorus adds to the strength of the piece. Easily the highlight of the collection is the veering out of control groove of "She'. Hysterical in nature the song rushes through in a glorious blur of sound. Following this is "Road to Nowhere" whose spirit feel reminiscent of early Alice in Chains, right down to the memorable riffs and sudden shifts in sound. Ending things on a high note is the powerful title track "Theotokos".
http://www.saintblasphemer.com/
Saint Blasphemere delivers a powerful, resonant sound with the timelessness of "Theotokos".
By – beachsloth.com/