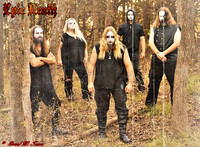 With a take no prisoners approach, Epic Death's "Witchcraft" swims through vast seas of distortion. Full of energy and passion, they rush through with heavy riffs and unstoppable percussion. Vocals serve as a further addition to the menacing sound, existing purely in a growl. Stylistically Epic Death draws from a wide swath of genre: from classical inclinations including Gregorian chants and symphonic sweeps, all while firmly rooted in a burning fiery metallic sheen.
"Hide" sets the tone for the album starting things off with a virtual wall of sound. Rhythms roll over each other on the intensity of "The Vendetta" where the guitar work further lets loose flirting with the abyss. A chorus of sorts rises out of the furious work of "Dragon's Blood" with the tempos virtually unstoppable. Drumming introduces the ceremonial spirit of "Stay Away". Riffs represent a sense of the tragic as the song careens wildly out of control. Downright swinging is the surprisingly catchy title track "Witchcraft". Easily the highlight of the album, the way that the keyboards and guitars work in unison is masterful. Turning down the volume for a moment is the atmospheric opening of "Screams from Valhalla". From there the song explodes into a multitude of textures. Within "Eye of the Storm" the way the sound swirls around gives it a fully-realized sound, one that is particularly informed by classical suites. Showing off their impressive chops is the cinematic "Karma's a Bitch". Bringing everything to a satisfying conclusion is "Incantation of Epic Death".
Felt as much as heard, Epic Death's "Witchcraft" pulverizes all in its path with a blackened scorched Earth approach dominating over the entirety of the album.
By – beachsloth.com