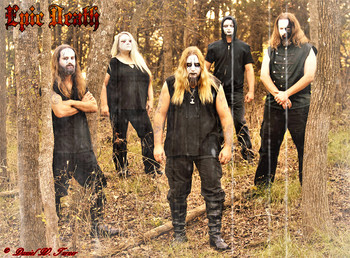 Black metal Texans EPIC DEATH, have been around since forming back in 2010. During time between then and now though, the band has gone on to play shows, write and record music, for some releases, including most recent being "Witchcraft". Keyboardist/backing vocalist Becky Dorsett discusses said release, future plans on new music, more showcases, and some insight into how the band got their namesake, which way they take their writing approach, musical influences, plus much more!
NP: First of all, who are you, and what do you do in the band?
Now that is a loaded question haha. My stage name is the Witch Demona (Becky) and I play keyboards and backing vocals. I also handle the business side of Epic Death.
NP: Two years ago, Epic Death had done a holiday based interview for NataliezWorld.com. Do you recall that? What were your thoughts on it?
Of course I recall the interview. It was one of the most unique interviews we have done to date.
NP: Since that was strictly holiday based, no band discussions were said. So now is the time, please tell us, how long has the band been together, and how did the band come to be who they are today?
Epic Death started in April 2010 so we are on our 7th year of existence. It started out as just myself and Vamp (Dennis) writing music together and getting it out there. We had some member changes throughout the years but finally found all the missing puzzle pieces that complete us today.
As for the name of the band, well one late night in April 2010 Vamp (Dennis) and I were discussing how awesome the band Death is/was. We discussed how it would be hard to come up with a band name any more epic than that… that's when it hit me and named ourselves Epic Death.
NP: For those who aren't aware your keyboardist/ backing vocalist Becky Dorsett is married to Epic Death's vocalist Dennis Dorsett, who is apparently a Vampire? How did this all happen, and has he turned you yet?
It is true Vamp (Dennis) is a Vampire. I suppose you can say he was just born this way. No he has not turned me, as I am a witch and don't see the need to be turned.
NP: Where is the band based out of? What is your music scene like there? Are there any local bands you could recommend?
Well the band calls Houston, TX home because 3/5 of the band resides in Houston. However, we also call Dallas, TX home because 2/5 live in Dallas. The scene in both cities is strong when it comes to metal music and that's a big plus for the bands that are coming up through the ranks.
As for bands that we would recommend:
Houston: Suicide Pandemic and Mezzanine
Dallas: Deathgrip and Hell Society
NP: You guys being from Texas, do you take your influence and inspiration from the farm life, hanging out with the cows and chickens, or they haven't been much help to you.
Well 3/5 of the band is live in the city but Vamp and I live on 6 acres. We do have a bit of a farm life you might say. We draw our influences more from the universe and everyday life then you might imagine.
NP: How would you describe your music to those, who may have never heard of it before?
We are metal. Some have called us symphonic black metal, others symphonic death metal and even some symphonic thrash. To us, we are metal, we have a little bit of everything in our music.
NP: Who writes the songs, what types of topics do they cover?
For the first album "Witchcraft" the songs were written by Vamp mostly. I helped on a few lyrics here and there. This next album it is a collaborative of all members of the band. "Witchcraft" focused on things that had to do with, well, the supernatural. This upcoming album will have some of the "supernatural" flair to it as well, just not as heavily.
NP: You released your album entitled "Witchcraft" via Bast Records. It's been 2 years, since its release; do you have any new music in the works?
It will be 2 years in December, and we have been trying to play as many shows as possible to support the album. We have started the writing process for the new album and it is coming along quite well.
NP: What can you say about "Witchcraft" that has not already been said about it?
"Witchcraft" turned out better than we had ever expected with the guidance and amazing engineering/producing of Stephen Bogle. We have been told that the songs have more meaning to some than what we had initially expected them to and that is always a great compliment when you can touch people with your music.
NP: Where can we listen to your band and where can we buy your stuff?
You can always listen to us on Spotify or Pandora. You can get our music through CDBaby, Itunes, Amazon, Rhapsody and you can also order through http://www.epicdeath.net in the epic store we have the CD as well as other merchandise.
NP: When it comes to your appearance and dress up for Epic Death's photo shoots and performances, how long does it take for everyone to get dolled up?
On average it takes us about an hour to be totally ready for photo shoots and performances. Just depends on the location and how much space we have to get ready in.
NP: Do you always go for the same look and feel, or change things up every once and a while?
For the most part we try to keep our corpse paint very similar each time. However, there may be some changes coming as we evolve sometimes so does the paint.
NP: Will we ever see Epic Death in photograph or performance form, without the dress up attire and make up? Or do these things make who Epic Death is as a band and as a whole?
We have had a couple shows that we didn't wear paint, but those are days long gone. We become different people when we are in performance attire than we are in our street clothes. Each member is a character in their own right and we take on that persona when we perform.
NP: What is the origin story behind the band's namesake Epic Death, what makes it such an Epic Death?
Well as I said before, the name came to us back in April 2010 based on our love for the band Death. (RIP Chuck). It has also come to mean so much more since then. We relate to much of the old ways, like the Vikings, and they believed to get to Valhalla one must die an epic death, that of a warrior. We in Epic Death, we are warriors in our own right and we fight for the revolution of true freedom and individuality when it comes to metal!
NP: What plans do you have for the near future as a band?
We are starting to book shows further and further outside of Texas. So we are hoping to make our mark in the music industry, one way or another.
NP: Do you have any last words for fans, or potential new fans?
We appreciate everyone who is a fan and we look forward to meeting and making new fans along the way. Each fan is important to us and without them we really have no reason to play music. We write and play music because we want to share our passion with those who feel the same way about metal music as we do.
By: Natalie Perez – www.nataliezworld.com – natalieannnperez@gmail.com