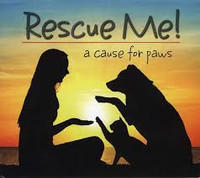 Charity albums are always a bit strange to review. I mean, on the one hand, you really need to consider the music on hand. After all, that's what you hear. The thing is, you can overlook some problems if the cause is worthwhile. Well, proceeds from this album go to animal welfare organizations, and all the songs were donated. I can get behind that cause. That said, I don't really need to look the other way because it is a solid release.
The set opens with a song called "Barn Cat" by Mary Ann Kennedy. The percussive element on this cut brings an almost jazz sound. Overall, though this lands more in country laced folk musical style. Some of the vocals are more spoken than sung, but there is singing in the track, too. I like the balance between more rocking and mellower sounds.
Next comes "Possum and Pearl" by Kathy Chiavola. I tend to think that the later sections of the song work better than the stripped down opening movement does. That section has to rely too heavily on the vocal performance to carry it. I just don't think that the vocals are all that strong. Still, this bluegrass tune is fun.
Cindy Mangsen delivers a song called "Our Cats." There is almost a jazz vibe to the number. Mind you, that comes from the vocals because this is an acapella song. It's actually one of the better pieces here, as far I'm concerned.
I like the fun reggae vibe on the next song. That song is "Get a Dog" by Annie Lalley and, it's one of the more fun pieces here. It is a snarky little tune.
More pure folk music is the concept on Heidi Muller's "My Old Cat." There was a whole school of female folk singers in the 1960s. This tune is cut from that kind of cloth.
Next is "My Best Friend" from Mark and Julie Weems. Piano and voice creates a nice bit of variety from the songs we've heard to this point. Then, when you also figure that the lead vocal is male (there are some backing female vocals), it represents even more change. I like this pretty song a lot. In fact, it's one of my favorites here.
I'm a big fan of jazz music, and really love the kind of energetic stuff that makes up "Kitty Kitty" from Ashley Jo Farmer. It has a great traditional sound to it. Yet there is a modern immediacy. It is one of the strongest tunes here.
RELATED ARTICLE: https://www.elderly.com/rescue-me-a-cause-for-paws.htm
The next song is by an act called "Friction Farm." The song is called "Why, Why, Why," and I like it quite a bit. It's just a nice mellow folk song a lot of style. It's clever and works so well.
Next is "Cattitude" from Effron White. Doctor John and Commander Cody working together would probably come up with something a bit like this. This gent is working on his "cattitude." That means not really caring, but doing it with style.
I've always said that while country music isn't really my thing, I tend to prefer the old school, legitimate country to the modern pop version of the genre. Well, Jamie Anderson's "I Miss the Dog" is definitely in that twangy old fashioned country sound. It's a funny song that is one of the stronger tunes here.
I'm a dog person. "The Best Dog" by Amy White really does a great job of describing the relationship between a dog and a human. It's slow moving and pretty. While it really isn't my kind of music, the lyrics really make it work. It is a song that's both sad and happy. It makes you treasure the canines in your life every day.
I know "The Kitty Ditty" (Joel Mabus) is more or less bluegrass or country, but the guitar has a bit of an old school jazz sound. This is meant to be funny. It's meant to be catchy. It's both. It's also another good piece of variety.
All in all, this set is quite effective. Personally, I think it tends to have the bulk of its variety toward the end, with the first few songs feeling a bit too similar. I would have moved things around a bit if I had been assembling this disc. Yes, I have experience in that regard as I've released three various artists sets over the years (two of them for charities and one of those for an animal shelter). So, when I say that perhaps it would flow a bit better if a few of the later songs were switched with a few of the earlier ones, I speak from a place of some experience. Still, this disc works well the way it's assembled, so it's not a big deal. More importantly, don't forget that it benefits a good cause.
Review by G. W. Hill