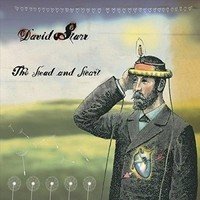 David Starr's smooth and flawless vocals are the real star of this CD. He is right on key and expressive every step of the way. That makes this a very pleasant listening experience. It doesn't hurt that the songs are very good, too.
"Edge of the World" is the first piece, I really love David Starr's voice on it. The ballad is pretty and evocative. It is very classy. Starr shows off the smooth and strong vocals on the title track, too. It's another great song.
URL: http://www.davidstarrmusic.com/
John Oates guests on this song, a cover of "Calfornia Dreamin'." Without the harmonies on this cover (The Mamas and the Papas), I found myself compelled to add them. That makes it kind of a participation song. This is an excellent version.
"Waiting in the Dark" almost sounds like a different artist. It's more of a rocking song, with a bit less country. There is a lot of passion and fire here, though. Besides, it's still a great song. It's just very different.
"I've Come for You" is more like the kind of rocking music artists like Bonnie Raitt or Stevie Ray Vaughn created. That makes it have a lot of energy. It's still great polished music.
There is so much emotion on the ending song, "Dancing with Pride." The vocals are the real selling point of it. It's the most purely country song of the disc.
This is something that will probably appeal to a wide range of listeners. It has a real genuine quality to it. It's also the kind of thing that's likely to get repeats visits from fans. It's just so good.
CD BABY: https://www.cdbaby.com/cd/davidstarr6
Diane Hill