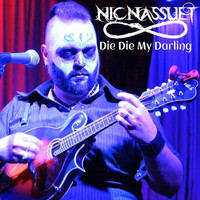 If you have not heard of the band by the name of The Misfits or another act called Danzig then you do not exist case and point. The Misfits is a horror punk band that was founded back in the late 70's from the state of New Jersey, it's original line up being such a big thing back then, that the band recently came back together for a reunion that was held in 2016 at the Riot Fest. Where it may have taken 33 years to do, but the original line up most of it, came back together for this onetime event.
But what does that event have to do with any of this well "Die Die My Darling" was one of The Misfits most cherished hits of their careers. Being fronted by Glenn Danzig was another thing as Glenn Danzig went on to form his heavy metal band he calls simply Danzig somewhat after himself. In short Danzig and The Misfits do have a past, present, and future in some shape and form here. As "Die Die My Darling" being a cover track performed by up and comer Nic Nassuet. This song coming off the upcoming EP titled "Torment An Acoustic Tribute To Danzig".
So now you can see where The Misfits for one and Danzig for another come from in regards to this song. The song itself is somewhat like it's original counterpart except it isn't all the way. It sounds a lot like it, as it is the same song, but this style takes the acoustic tone with it. Having it sound chopped up into layers, as in parts it sounds very gothic, while another part it sounds purely rock n' roll, and the remainder of it, has it sounding like it should of horror punk.
The song is very unique with the way Nic Nassuet presents it. His style of genre choices of that are goth, horror punk, acoustic, folk, and one called neofolk. Using all of these together to create what will be upon that EP "Torment An Acoustic Tribute To Danzig", is just something out of this world. It is truly interesting if not amazingly wonderful to the ear. He is able to craft together an arrangement of tracks, having them sound so beautiful and well done it is flawless and raw emotion of pure edginess.
"Die Die My Darling", is one thing, it is a great song, and the way Nic Nassuet takes it and makes it into his own version is something else. There is just so many ways to describe it, it is just out there. Surely the rest of the EP release with its assorted track listing will sound just as amazing if not even perhaps better, there is no telling really. But what can be said here is that the way he creates music, he can make any song he covers into something all his own creation. He is that good at what he does as an artist and being a part of a band such as this.
The Misfits and Danzig may have an extensive amount of history going for themselves surely but Nick Nassuet will likely be right up there, alongside them showing all out there, that horror punk is still presented within our little world, it just needs to be accepted more so than usual, and Nic Nassuet has and will do such a thing, it is possible and will be done.
By: Natalie Perez – www.nataliezworld.com – natalieannnperez@gmail.com