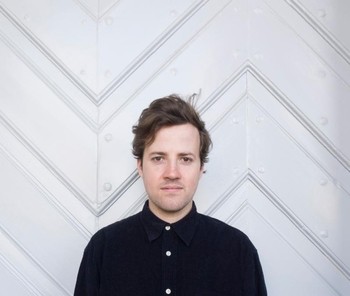 Ernest Jenning Record Co. is excited to announce Hunter Simpson's new LP Goldmine, which will see a release on May 12, 2017. In anticipation of the release, Hunter has shared the new track "Windows." Hunter has also announced a run of tour dates, beginning with an album release show at Alphaville in Brooklyn on May 7, followed by stops in Richmond, Durham, Charlotte, Asheville and Nashville.
Originally from North Carolina, Hunter Simpson is a musician and songwriter based in Brooklyn and Copenhagen. He was the principle writer for the band Daytona, and has played guitar for Brooklyn rockers Wild Yaks on and off for years.
Goldmine is a smooth, contemplative collection, its eight songs flowing languidly from a wellspring of fingerpicked nylon-string guitars, nimble saxophone runs and tender melodies sung with conviction. The title track is a prime example of these principles in action, while "Where" uses brass accompaniment in entirely different ways, piling harmonies high to create thick melodic accents. Those sounds form the sonic backbone of the record, but tracks like "Windows" diverge pleasantly, boosting the percussion and adding electric guitars to allow for even more sonic expansion.