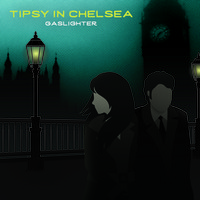 High thoughtful, articulate lyricism adorns Tipsy in Chelsea's compelling "Gaslighter". Tapping into a light jazz-inflected singer-songwriter style, the songs drift by with an airy aura. Instrumentally diverse, Tipsy in Chelsea incorporates such a wide array of approaches throughout the collection, from an almost bossa-nova style to a full-on classic rock sound. By letting this diversity woven into the collection's DNA the songs retain an unpredictable nature, keeping things interesting. Heart and soul pour out of the soothing soft vocals which possess great power.
Stream: https://soundcloud.com/tipsy-in-chelsea/sets/gaslighter
By far the highlight of the collection comes from the impassioned work of "Laugh Til I Cry". Rather tasteful, the song's elegance is undeniable. Quite light on its feet everything work in perfect unison, from the emotional impact of the percussion to the glistening guitars that punctuate the piece. Bombastic and full of energy is the spirited "You Are The Sun". Quite defiant in its tone is the impactful "Fade Or Remain". Featuring warm rich keyboard work the song's minimal nature works in its favor, resulting in a sound that touches upon the blues. With a dreamy spacious atmosphere is the western twang of "Day After Day (Badfinger Cover)". Layer upon layer works wonders on the poppy "Twisted". Ambitious to its very core is the sprawling work of "All These Things" with the busy arrangement positively giddy. Ending things on a high note is the laid-back mood of "Precious To Me (Phil Seymour cover)".
http://www.facebook.com/tipsyinchelsea
Downright blissful and with a strong sense of self, Tipsy in Chelsea create a kaleidoscopic sound with "Gaslighter".
By – beachsloth.com