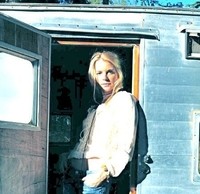 Originally hailing from the wilds of rural Pennsylvania, Amilia K. Spicer's personal and musical journey has taken her from those early roots to heated Texas landscapes, Southern California sunshine, and all points in between. The same diversity of experience is reflected in her music – one might find noir suggestiveness bumping up against pastoral eloquence within the same song. Her single "Fill Me Up" from her forthcoming album Wow and Flutter offers plenty of evidence that this singer/songwriter is more than ready to ascend several rungs of success. She brings together more than just a narrow range of musical references – instead, "Fill Me Up" shows off an artist and songwriter capable of entertaining her target audience as well as invigorating them with a thoroughly modern approach that reeks of individuality. Her voice is fierce, commanding, and incisive – both the sonics and writing alike. This is one of the best singles you'll hear in 2017.
It has a wonderful escalating quality. An easy going shuffle opens the song and slowly grows from there, but Spicer exercises a tremendous amount of patience during the song's four and a half minute running time. Spicer utilizes different instrumental textures during the course of the track, but she's tastefully never at a rush to introduce them. The primary instrument in the performance is her voice, but the early spartan accompaniment works exceptionally well. Spicer's a songwriter who, certainly, believes in making the most seamless marriage possible between music and lyric and "Fill Me Up" typifies her approach. The production work eschews any sort of studio trickery in favor of a honest, no-frills recording and gives Spicer's voice a spotlight in the recording while never upsetting the balance of the performance.
Her voice has immense subtlety and multiple shadings. The sensitivity she brings to this recording isn't a quality that even veteran performers can readily summon, but Spicer seems to effortlessly conjure such moments. The exceptional phrasing of the performance enhances the fine lyrical content without ever seeming overly dramatic. She knows how to cast her voice in the best of lights against the backing track and shows the same commitment to aligning herself to its strengths. Despite the gentle edges she brings to many passages, there's a palpable amount of soul coming through and she sings for her listeners in an openly vulnerable, emotive style. The lyrical content shows her talent for focusing on a number of the best significant details while never straining too hard for its desired effects and fixing quite tightly on all the right images. The aforementioned skills in phrasing possessed by Spicer make the lyric light up even more, but there's ample evidence here of her literary talents and how well they exist in the context of popular song. Amilia K. Spicer's "Fill Me Up" communicates volumes about where she's been and going from here, but it's unquestionably the finest single yet from this formidable talent. Judged as an early taste from the new album, one can only assume the release will redefine Spicer's trajectory in a positive way.
Jason Hillenburg