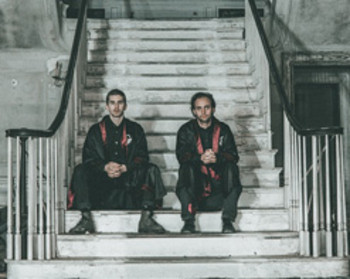 With their latest gem, "Duality," Atlanta-based duo Bells and Robes offers us a more streamlined interpretation of their sound while maintaining their veracity as avant-garde sound creators and technicians. Blending atmospheric chill-wave and brisk bass lines, this electronica duo aims to create a vibrant energy while concurrently soothing audiophiles into a fantasy-like state of reverie. Performing over self-produced "electro-soundscapes," Luke Sipka plays keyboard behind the boards while Dean Spaniol plays drums and creates samples. With the help of up-and-coming rapper, Swain, the trio combines the vigor and brusque electronic sound of current R&B music with the ad-libbing of a live band in a way that leaves listeners feeling inspired.
The Bells and Robes name comes from a Zen Koan titled "Bells and Robes." This parable tells readers that "to understand intimately one should see sound." After forming their duo on the 2012 Winter Solstice, the two artists are aiming to continue their pursuit of music by exhibiting their eclectic sound throughout the Southeast and the nation. Bells and Robes has shared the stage with ODESZA, Emancipator, Lotus, Beats Antique, Papadosio, Break Science, Mr. Carmack, Soulection, Autograf, Kodak To Graph, The Heavy Pets, and Dynohunter just to name a few.
The duo combines the high energy and crisp electronic sound of a dance DJ with the unpredictable improvisation of a jam band set, and with the addition of local standout Swain's silver-tongued, soulful rap-style, this track is a stunning amalgamation of The A's finest new talent. Opening with a wicked, tribal dance figure moving around this foliage-lined open space, and Swain laying down his raps, "Duality" tells the story of an instance of opposition and contrast between two concepts and two aspects people tend to feel within themselves; a polarity. This is represented through two different men, fighting to see who comes out on top, seemingly fighting for their identity. This video is impeccably shot and the simple, natural landscape that this story is told on is a perfect contrast to the strength and tangled nature the lyrics express.