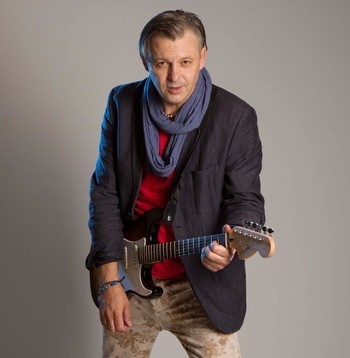 So we are back at it today and spring is here for sure. Nomatter what the weather the music keeps coming and we love that. Today we head to Czech Republic to chat with musician Johnny B Cooper. But before we get to that lets check some music news. First up, 2016 was a year of significant progress for the American music business. Powered by 22.6 million subscriptions, streaming overtook all other formats, generating the majority of industry revenues for the first time. Overall retail revenues grew 11.4%. An extensive review of the data is available here – https://www.riaa.com/reports/news-notes-2016-riaa-shipment-revenue-statistics. Next up, Today, Google announced that it is joining the podcast trend by launching its own, City Soundtracks, as part of a tie-in to its Google Play Music service. It also seems to be a way for the company to help sell music tracks on Google Play. The premise of City Soundtracks is that each episode focuses on one artist, and the city they consider their home, as they offer insights on the musical themes that have come out of each location. So now we can immerse our ears into the music of Johnny B Cooper and his catchy singles like "Dress Down Friday" and "The Airship." Join us as we talk about the music scene in the Czech Republic, getting noticed by fans & industry, USA vs Russia, and so much more!
Stoli: Where are we talking from today and how did you manage this winter?
JBC: I was focusing on composing new songs this winter and also looking for new music genres. I got an invitation to play in two blues clus bands. It is a very exciting experience for me as blues enchanted me a lot. I am listening to the old masters from Mississippi…. One of my next songs will be influenced by this stunning genre and the "rock cradle".
Stoli: When did you once get into music and did your family support you?
JBC: When I was 9 years old, my sister taught me to listen to the classic rock as Led Zeppelin, Deep Purple, Yes, Uriah Heep…. I have set my first band when I was 15.
I came back to a creative work after a very long time with a song "The Airship". I have recorded this song in London. My family and my girlfriend are very supportive and they wish me to be successful!
Stoli: How is the music scene where you live in the Czech Republic and do you get to play live?
JBC: I am following the Czech music scene, but my main interest is the unofficial club one, half-professional. Currently I appear as a guestt in two blues bands. We are performing in clubs within the region.
Stoli: You have some great songs in your catalog. How long did it take to really develop your sound as we hear it today?
JBC: Thanks for a compliment. My opinion is that there is a great piece of work in front of me. I love music!
In the meantime I am trying out different styles: rock, pop a for sure the world of blues. Maybe soul and funky as well. But I love composing and experiments because the music is simply my life!
Stoli: What kind of mood & setting must you be in to create music?
JBC: All of my songs are very personal and comes out from my ideas and life experiences, books…The real life is a priceless inspiration!
Stoli: I love you song "Dress Down Friday." What is the meaning of that song and when did you write it?
JBC: I have read about big companies and their philosophy of Dress Down Fridays. It means Fridays when men throw out ties and shirts and ladies their suit, and everybody dress casual: jeans, t-shirts, sneakers. This idea impressed me. It is not about the money, everybody is original, has his own identity – no matter where they work. It is a big relax in the prissy business world. I have composed this song to manifest freedom not only in dress, but in thinking as well!
I have done the lyrics and my friend Jerad Finck has helped me with music.
Stoli: It can be tough to get noticed these days. When you release music how do you get the word out and get some streams/downloads?
JBC: I am listening to every style. Classics, rock, pop, blues, jazz. I can find something inspirative in all of them.
Stoli: Who are 2 artists from Czech Republic that you listen to that we should check out?
JBC: My country is small in area, but big in bands and musicians of different genres. And they are really great! Unfortunatelly they all have only a little chance to succeed…… Club bands are my inspiration no matter if they are rock, jazz, funky, soul…. I cannot pick up only two of them……. I appreciate all musicians who are doing with their hearts. Come to see and enjoy!
Stoli: Democrats in the US are itching for war with Russia. Is that not the most apocalyptic idea for the whole world?
JBC: The only thing I can say is that I believe in good people and good hearts. In common sense!
Stoli: After someone listens to your music what would you like them to take away?
JBC: Listen to the music, sing and compose even if you had a bad day! The music is a gift!
Stoli: What is coming up for Johnny B Cooper and where you @ online?
JBC: You can contact me on FB. The fastest way is my email – cooperjohnnyb@gmail.com. I am trying to respond in 1 day at the latest.
https://cs-cz.facebook.com/people/Johnny-B-Cooper/100009893834715