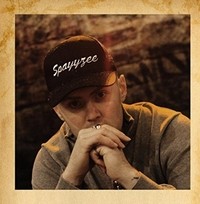 Twenty year old Long Island, NY native Michael Plotkin, aka Spayyzee, has been actively pursuing his musical dreams since the age of fifteen when his current group Philosogy/SSP first formed. He's prepping his debut album for an impending spring 2017 release and the second single from the forthcoming collection, "Work For It", equals the quality of the first single "Distance Myself" in every meaningful respect. Spayyzee's work combines a hard-hitting musical approach with intelligent and constructive lyrical messages reaching far beyond the genre's stereotypical obsession with physicality and material value. Spayyzee has made his mark, as well, with a number of live appearances and his early efforts have resulted in a rapidly blossoming reputation as one of the most promising hip hop performers working today. He's rising through the ranks thanks to a disciplined approach maximizing his talents and the hard work he's willing to apply towards realizing his dreams certainly looks ready to pay off for him based on the latest single.
The track opens with a light synth sheen before the loping beat kicks in. There's a light musical touch to this song that we don't often hear with this sort of material and belies the often rugged lyrical passages. Unlike many tracks of this type, the drumming on "Work for It" has a natural sound rather than the mechanical drum machine snap so prevalent in other songs. The keyboards continue to make their presence felt throughout the entirety of the song but they are woven so seamlessly around the beat that their presence is never obtrusive. The chorus is the high point of the track's structure, but the breakdown in the song's second half is equally compelling and sets the stage nicely for the number's conclusion. It runs at just the right length and never overextends itself – instead, there isn't a single wasted moment or note throughout the entirety of the performance.
The lyrics are quite good. They present a variety of situations with the common theme that anything you want in this life requires hard work, sweat, and hustle. It's, naturally, tailored to the song's musical needs, but it has a certain hard-won eloquence that will lure even the most jaded listeners into Spayyzee's web. The differing vocals of DC Steez, who opens the song, and Spayyzee couldn't be more obvious. Steez has a much more traditional delivery and it's quite smooth, but he has an effortless strut in his cadence that's equally entertaining. Spayyzee has a much different tenor. His voice is rougher, almost hoarse at certain points, and the jagged edge he brings to the words is quite memorable. He projects the same confidence as Steez, it just manifests itself in a much different way. "Work for It" has a timeless theme expressed in a modern way and with a modern sound. Spayyzee and DC Steez make their mark with this song and there's surely more we'll be hearing from this partnership and Spayyzee as a solo performer.
AMAZON: https://www.amazon.com/Work-Spayyzee/dp/B01LTIBUFU
Jason Hillenburg