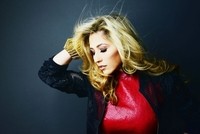 The latest single from bluesy pop vocalist Brielle Von Hugel, "Stronger", continues the young singer's upward trajectory as one of the most promising talents working in popular music today. Her appearance on Season 11 of American Idol propelled her into the public spotlight and she's garnered a lot of traction from following appearances on FOX's Good Day New York and assorted fundraisers like the Steve Siller Foundations, the March of Dimes, and the TEAL Walk. Magazine appearances in Billboard and Industry have reinforced her rising stature and collaborating with Scott Bradlee's Postmodern Jukebox have showcased different sides to her vocal and musical acumen. This new single features contributions from rapper B.o.B as well as a mix courtesy of House DJ's Sweet and Sour and Exodus. "Stronger" has a deeply personal message married to its kinetic pop energy and the mix results in one of the most successful singles released in 2017.
FACEBOOK: https://www.facebook.com/briellevonhugel/
The song opens with some understated electronica bringing color deep in the mix, low-key guitar work, and Von Hugel's vocal firepower making its presence felt from the first. "Stronger" relies on a gradual build for its initial success and it works marvelously. It works through a number of transitions throughout the course of the song and one of the most important ones comes around the one minute mark when the track shifts from a mix of percussion and electronica touches into much busier percussion and dense synth lines that swirl and weave around Hugel's voice. There are a number of flourishes and some post production moves further enriching the track before it segues once again just after the two and a half minute mark and B.o.B. emerges to take over the lead vocal spot. His rapping style is ideal for the track because it matches its intensely rhythmic qualities while still relying on confident phrasing to put across the lyrics. The busy percussion and synthesizer waves that the first half is so reliant on largely drop away during this portion of the song, but it returns when Hugel reasserts vocal control over the song's final passages.
The lyrics have hard-hitting urgency that speaks directly to the listener and never risks laying it on too thick. Despite the torrential nature of the backing track, Hugel's voice slices through the mix and she dominates the song with her impassioned rendering of the lyrics. It is an ideal marriage of a variety of musical forces here – she has found ideal collaborators in Exodus, Sweet & Sour, and of course, B.o.B. The various strengths they bring to bear all come within a well crafted track and reinforce Hugel's talents in compelling ways. "Stronger" is a reminder that the cream does, invariably, rise to the top, but perseverance and bravery are equally integral tools for making one's voice heard. We are hearing Brielle Von Hugel's voice more and more clearly with each outing and our musical world is better for the experience. "Stronger" is a winner from the start and will garner her much deserved acclaim.
Jason Hillenburg