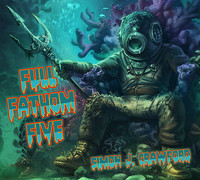 Simon J. Crawford delves into a lovely mixture of classic psychedelic rock alongside masterful storytelling on "Full Fathom Five". Throughout the album what Simon J. Crawford explores is the life fully lived, with snapshots of life strewn out over the gorgeous finely crafted sound. Arrangements are pitch-perfect with the attention to production simply stunning. By choosing such a rich, varied approach Simon J. Crawford creates an album that touches the soul with its heartfelt, sincere style.
Stream: http://simonjcrawford.com/fullfathomfive.php
Volume is an absolute must on the powerful opener and title track "Full Fathom Five". Vast washes of sound add to the overall emotional heft of the piece. A dusty and warm nature graces the spirited "Morse Code". With a little bit of the blues is the unhinged and aptly named "Daddy's Little Demon". Rather serene and offering a bit of a respite is the spacious mellowed acoustic guitar of "Ms. Stacey and the Pearl". Rich and fully formed is the infinitely catchy "One Day at a Time". Manic guitar work defines the album highlight, the intricate arrangement of "Crazy". Tapping into a sense of defiance is the spirited work of "Spanky's Revenge" which at times feels reminiscent of early 90s Meat Puppets. Wonderful in execution is the tribute to David Bowie "Blackstar (For Bowie)". Late night vibes permeate the thoughtful nature of "Charlie Chaplin (For Dad)". Nicely bringing everything together is the playful closer "The Rescue/The Song I Wrote".
On "Full Fathom Five" Simon J. Crawford covers the gamut of styles and genres doing so with the utmost of ease.
By – beachsloth.com