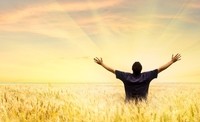 Tasteful and true, Rev Peter Unger bares his soul on the spiritual "As I Am". Within the song, Rev Peter Unger opts for introspection, choosing to focus on exactly how one can improve through the power of love. By utilizing an intimate approach to the atmosphere every single detail of the sound can be felt in full. His voice anchors the track, as he reveals a careful knack for storytelling. Over the course of the piece the many layers grow to become a formidable force, one that washes over the listener.
Stream: Rev Peter Unger – "As I Am"
Not a moment is wasted as the song begins with full energy. Sung with passionate Rev Peter Unger sings straight from the heart. The hope of forgiveness is what drives the piece forward as it slowly but surely unfurls. Guitar work is the right level of nimble, offering flourishes in the perfect places. Quite gorgeous the song elaborates upon where comfort can be found in the world. Synthesizers are used tastefully at times giving the song a sweeping, almost symphonic sound. By choosing such a style the way that the song gets to the sincere truth of the world feels comforting. Many layers of sound come together to deliver something that feels honest and real. Towards the very end of the piece all of this is gradually peeled away to reveal the tenderness of Rev Peter Unger's message.
www.reverbnation.com/revpeterunger
Rev Peter Unger sculpts a warm, inviting sound on the celebratory "As I Am".
By – beachsloth.com