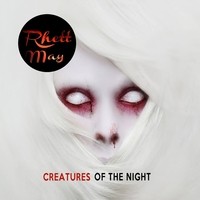 Originally born in the rather exotic environs of Calcutta, India, Rhett May enjoyed the fruits of living in such a vibrant culture for many years and started his first band early on in life after the sounds of 1960's music like The Beatles, Steppenwolf, The Yardbirds, and Cream migrated from the distant west into eastern culture. May's initial band The Wooly Bullys soon evolved into a different outfit called The Flint Stones and this unit scored enough that they attracted the attention of legendary Beatles guitarist/vocalist/songwriter George Harrison. Their successful single "Be Mine (Happy by My Side)" made them India's most successful pop group and even played a private concert for the Queen of Bhutan. May's restless spirit, however, prompted him to leave India for the island continent of Australia in 1969. He formed another band, Lucifer, who experienced more than modest success opening for visiting acts like Queen and Ray Charles. The dawn of disco, however, turned the band's fortunes in a negative direction and May soon found himself on the outside looking in until the release of 2013's EP Insatiable. His latest release, a thirteen song album entitled Creatures of the Night, bring wide ranging musical diversity and a fearlessness of subject matter to, deservedly, an even wider audience than before.
https://www.reverbnation.com/rhettmay/album/127128-creatures-of-the-night
The opener "Somebody's Watching You" builds nicely during its introduction before taking off at a brisk trot. It's propelled by the drumming and wiry, lightly colored guitar lines keeping perfect pace with the percussion. May's voice cuts through the mix with clarity and command over the lyrical material. His writing is literate and accessible and there's enough meat on these bones to engage any listener. "Back Seat of My Chevy" takes on a much more methodical, mid-tempo pace after opening with some chugging acoustic guitar. May's vocal matches the same methodical backing with patience and an emphasis on communicating the narrative to listeners. The title song takes a darker, more melancholy turn and opens with some pensive, revolving piano soon joined by acoustic guitar playing. There are some nice backing vocals that join with May's lead vocal line at key points and it gives the song a much more inviting air to temper the darkness creeping in along the edges. The song's second half finds drumming coming to the fore and eventually a full rock backing fills in behind the initial arrangement. His mastery of song construction during the first three songs is quite evident.
There's some compelling quasi-tribal drumming ushering in "Latex Lady" before it settles into an authoritative march. The rock guitar in this song is powerful and punctuates May's vocal as he delivers the sexually oriented lyrics, but May falls on the side of tastefulness and accomplishes more with suggestion than outright description. "Elixir of the Gods" incorporates some exotic musical textures and keyboards into May's musical vision to supreme effect and he gives listeners a strong atmospheric vocal. The album finale "When We Make Love" invokes the feel of smoky jazz without ever adopting a purist edge and the inventive musical arrangement gives May a tremendous amount to work with. Creatures of the Night is a stunning success from the first and lack any moments of outright filler.
9 out of 10 stars
Jason Hillenburg