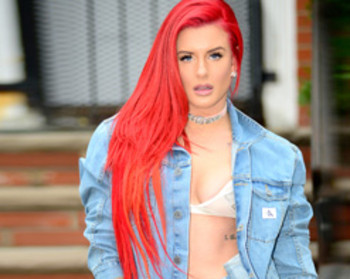 From Nick Cannon's Wild 'N Out to international tours with the likes of Mike Stud and Futuristic to airplay on major radio stations, Justina never stops creating, performing, and getting her music out there. In the age of social media, no one understands the importance of a strong visual- and an active online presence- better than she does.
Perfectly timed to drop on Valentine's Day, the "Crushin On You" video is Justina Valentine at her finest, marrying influences from pop, soul, and hip-hop for an eclectic- but immediately memorable- sound. She's teamed up with M80 this time, and the video begins with silhouettes of her and her "crush"- M80 himself- singing about crushing on each other. M80 lights up a cigarette as the two duet, "I'm crushing on you, I just want you to know."
Justina brings her dance skills to a party this time, where she works the room as the center of attention. This alternates with scenes of a masquerade party, as she and M80 try to win each other's affections. It's an innocent tale- "Crushing on you like the fifth grade", she sings- that ends with Justina blowing smoke in to M80's mouth as she goes in for a kiss. "Crushin On You" was directed by fellow New Jersey native Ronald Reid, who previously directed Justina's stellar video for "Muse".