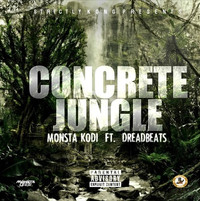 Monsta Kodi says "I ain't a rapper, I'm a Monsta!!!". Hence the namesake but the music style is indeed rap, hip hop, even some reggae mixed in there. Which is what you get after listening to his new song turned single "Concrete Jungle".
It's a song that mixes around the genres mentioned, as well as goes with an approach, of sounding melodic yet powerful. Having that exotic Caribbean feel to it. It compares the lack of love and compassion shown within today's society. Like if this song were to go back in time, it would best be described as, going to the ancient city of Babylon, that is what "Concrete Jungle" does and provides to the listener. That said, the song and genres, never being my type of music, was an interesting song and source of genre picking's. Yes having heard a variety of other rap, hip hop, and reggae too, thrown out there over the span of music's existence. This style, is a lot like all the rest. Yes that has been said and tossed around quite a bit, depending on the artists or eve band in question.
But for the likes of Monsta Kodi, this song does step out just a bit, yes it is rap, hip hop, like all the others out there, but his style is more in-depth. It has a meaning to it, a style and sound wave that really speaks to you. It has an over powering sense to it. The lyrics being very powerful, and rather relatable at times. Other times, the lyrical context can be there, but that's all it does is just stand there. Don't get me wrong, the lyrics are decent, go well with the music in the backdrop, but they could be doing so much more. Like just having a more interesting manner to them, would make it better, having it stand out even more so, I think.
But this song does not only have Monsta Kodi but it features another artist by the name of Dreadbeats, who adds that Caribbean feel and sensation to it. His methods really add it on, making the song more easy going and enjoyable. If you were to really sit and think about this song, and it's artists featured on it, it brings to mind, that of Drake crossed with perhaps early 2Pac if not maybe a tad bit of his influence could be heard, maybe just a guess, on this track. 2Pac being such a big icon within this genre pool, he too like Monsta Kodi was able to create a sense of style that really caught the eyes of all. That is what Monsta Kodi is doing right here with this "Concrete Jungle" track. Other songs from Monsta Kodi have similar methods of formula to them, but this song on its own is more different and unique sounding due to that melodic vibe it has going for it. It makes this track sound so much more interesting and perhaps better than his other material out there.
"Concrete Jungle" is a track that is standing out there, to stick out, and being something that will fall into place, aligning with all the other acts, that it may sound like, but it just wants to stand on its own, which is what it does here, just needs some more embracing to make it stand out even better.
By: Natalie Perez – www.nataliezworld.com – natalieannnperez@gmail.com