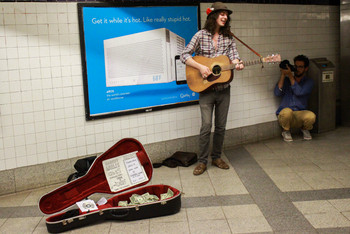 What did you want to be when you grew up? Many of us had colorful and impractical dreams as children. However, some have lived out their childhood dreams, becoming traveling street performers or engaging in some other whimsical adventure as a full-time hobby, lifestyle, and source of income. Here's how to throw your passions to the wind but still keep your feet on the ground.
WiFi Analyzer
If you're a traveler, this app is a must have, for it helps you locate WiFi as well as measure the strength of signals in the area. Some may be engaged in their passion while needing to make multiple streams of income on the side. Therefore, having access to WiFi is a necessity in order to check email, use online tools, etc.
Wunderlist
If you're the whimsical type, you may find it difficult to introduce order into your life. Wunderlist has you covered, allowing users to make and share lists, get recurring task alerts, keep notes, and more. The sharing option is interesting and convenient for those who may need to micromanage a business from afar.
Hopper
This app is a great travel partner. It keeps you up to date on flight availability and pricing. What's the difference between your average traveler and a smarter one? Potentially, the difference could be thousands of dollars depending on the savings. Get alerts when fares reach their lowest.
Alarm Clock for Me
If you're not the typical businessperson or tourist, you probably aren't keeping regular or normal hours. Therefore, you'll need an alarm clock app that lulls you to sleep with sounds and music and wakes you up when needed. Additionally, get local news and weather.
Burner
This app allows you to give out an alternate phone number that sends and receives regular calls and texts. The catch is that the number expires and vanishes after a certain amount of time. It's great for networking and exchanging numbers. Scrub lists and better target clients. You can then transfer the numbers of the best connections, clients, etc.
Hotel Tonight
Hotel Tonight is the Hopper for hotels. Never again will you arrive in a new place last minute and have no place to rest. Find the chicest hotels at the best rates at the eleventh hour. You can't underestimate good sleep when traveling or constantly in new territory.
Tumblr
You've probably heard about the latest millennial Internet sensation who makes funny videos on YouTube and millions of dollars. You can emulate the grassroots path to fame by chronicling your adventures with Tumblr app. You don't need 'your own website' to produce content. Upload pictures, personal essays, and more through the app.
PayPal
PayPal kind of revolutionized street performing. Oh, someone doesn't have any money on them? That's fine; they can charge a donation or tip using the PayPal app. Never again will street performers be limited to collecting loose cash in hats and jars. With a quick swipe, you can charge them.