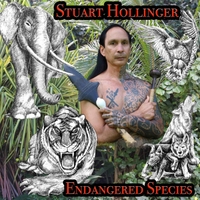 Performed with true passion is the pop perfection of Stuart Hollinger's "Endangered Species". Within this album Stuart Hollinger taps into a joyful 80s sound with guitars that glisten and glow. Inviting rhythms add to the overall spirit of the songs as they drive the songs forward with great determination. Akin to pop classic revivalists like Ariel Pink and classics like Pink Flamingos, there is something deeply comforting about the album. Vocals take front and center of the album. Lyrically thoughtful, the lyricism includes a great deal of wordplay giving the songs a poetic quality.
Audio: http://stuarthollinger.com/music/a/endangered_species
Things start off on a high note with the rush of "All Because of U". Quite sweet the song simply stuns with catchy hooks leading the way, and a warm chorus tapping into the exuberance of love. Slowing things down a bit is the low-key groove of "Falling". Jungle-like rhythms adorn the nimble funk of "Yolo". Physical to its core is the rumble of "Picking up the Pieces". With a true sense of play is the lush, Pixies-referencing work of "Dog House". Jazz influences emerge over the late night casual cool vibes of "Surrendering". Elements of dub and sly funk influence "Steffanie (Robert's Song to Steffanie)". Pulling out all the stops is the show-stopping work of the album closer, the bombastic work of "Soldier's Story". Easily the highlight of the album "Soldier's Story" shows off Stuart Hollinger's talent for storytelling.
Downright addictive Stuart Hollinger's "Endangered Species" represents the best of pop: intelligent, elegant, and infinitely tasteful.
By – beachsloth.com