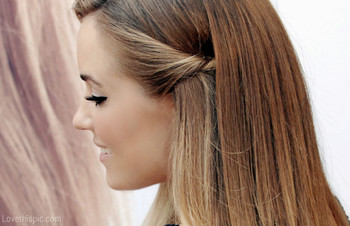 Who does like a pair of silky, smooth and thick hair? Everyone loves their hair though. For someone having oily hair, its bit of a mess; all the dirt and stuff makes it greasy and ordinary shampoos don't seem to be any good. Want to blame someone for this? Blame the glands of your body. This is caused due to Sebum – a natural ingredient but its a waxy substance secreted by our body to keep the hair soft and supple. Over production of it ends up making our hair oily, but mostly gives us volumes too. There is something you can do about it though, use a shampoo that's specially made for oily hair like yours.
If you have already tried something, but it didn't help; well you didn't ask for the best then. Here are few amazing products that are definitely a fix for those messy strands.
Maple Holistics Natural Shampoo
It's an all user product to help you with your itchy scalp and oily hair. The shampoo stimulates cell renewal and growth. The rosemary extracts can help with Alopecia (hair loss). The chemical composition of the shampoo helps regulate sebum secretion levels and keeps the scalp well moisturized. The good thing about it, its safe for colour treated hair too.
2. Alterna Bamboo Style Cleanse Extend Translucent Dry Shampoo
This is something pretty different from the others, it's a translucent shampoo spray which works on the excessive oil your head. The primary contents of the shampoo are the delicious and mouth-watering mango and the healthy coconut. Rich in numerous vitamins mango has proven to be a great hair product that helps with moisturization and healthy growth. While coconut helps with hair loss and fighting dandruff. Being a translucent spray, it leaves back no traces of it.
3. Klorane Gentle Dry Shampoo
Prepared of Oat Milk, Klorane Gentle Dry Shampoo is a completely natural shampoo made for your oily hair. Oats, just like they are healthy for the diet and fit tummy, they are pretty good for the hair too. Full of nutrients and vitamins, it's an excellent source of nutrition for the scalp. The composition of the shampoo allows it to soak all excessive oils and leave back some beautiful hair volume.
4. Batiste Light & Blonde Dry Shampoo
Some people avoid shampooing for the fact that it requires to wet the hair and washing it is another task. Batiste's dry shampoo is here with a fix. Shampoo your hair, without having to wet them. Made primarily of rice Starch, it is a wonderful product for nurturing those oily hair-locks. Rice starch is a good absorbent and moisturises the scalp. The little golden in the shampoo disguises the whites and greys.
5. ApivitaPropoline Balancing Shampoo
This is the best of the shampoo for oily hair that you can ask for. Containing thyme and propolis natural lipoamino acid and nettle, it is highly effective on that excessive oiling. Also, the shampoo give your hair a shield to environmental damage along with good volume and bounce. Though a little heavy on the pockets, it's an amazing product.
6. Tru Moroccan Clarifying Shampoo
If you can't find something that's worthy of your hair care, your search ends with Tru Moroccan. The 100% natural shampoo is made out of natural oils and herbs and works pretty well against the oil and scalp. Primarily consisting of Argan oil, the shampoo is effective on dandruff and hair damage and can repair it pretty well. Tru Moroccan provides deep cleansing and fights that itchy scalp, moisturising the roots and giving you healthy and thick and voluminous hair.
7. Oscar Blandi Pronto
Oscar Blandi Pronto, the best in the best dry shampoo that is in the market contains wheat proteins and starch to nourish those beautiful hairs. While with the others you might suffer from the residue, Oscar leaves no trace after the job. This gives you soft and dandruff free hair every time. The sweet tantalizing fragrance of the shampoo just adds sparks to its list of wonderful qualities.
There are numerous shampoos available on the shelf, but not anything's going to work for that oily hair; they need special care and to be treated right. Choose the one that fits your needs and suits your hair type, after all hair means a lot to one's appearance.