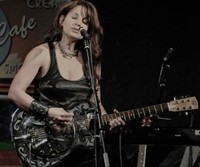 Singer/songwriter Susan Calloway's latest single "Time For This" continues the upward trajectory of a career that has seen her find widespread success in some of the least traditional ways imaginable and reflect the changing face of the music industry. Her hit song for the Final Fantasy video game franchise, "Answers", staked her claim as one of the foremost talents rising through the ranks today and earned her countless more adherents, but there's nothing non-traditional about her musical approach. Calloway, working alongside longtime producer Gerard Smerek, has written and released a number of first class works without showing any signs of peaking or burning out. Instead, Calloway's talents for delving deep into self-expression seem to bloom exponentially with each new release and this new single is her best yet featuring all the entire first class production we've come to expect from this artist and a willingness to lay herself bare that few modern artists share.
FACEBOOK: https://www.facebook.com/susancalloway/
The beauty of both the song and performance are undeniable. She approaches every aspect of the song with steady artistry, never stretching its musical or lyrical tethers too far, and this acute sympathy with the material makes for a memorable outing. This seems to come quite naturally to Calloway as there is never a moment during the performance when her voice goes to places it can't travel or otherwise strains for effect. The commitment she exhibits during each minute of the track partners with the piano and creates understated drama. This isn't some over-sentimentalized or clichéd ballad aimed for radio. Calloway, undoubtedly, hopes to achieve some measure of commercial success with this song, but this is clearly more substantive and personal from the outset. It runs at a perfect length and Smerek's additional creative guidance once again serves Calloway quite well.
There's very light accompaniment from synthesizer deep in the mix, but these are unobtrusive splashes of color on an otherwise stark musical canvas. The piano playing, especially, pushes the song melodically more than any other single element, but Calloway's voice effortlessly rolls with the music and the two achieve great things together. The completeness of the tune is its distinguishing attribute – the vocal and musical quality is coupled with strong lyrics that are never overwritten, yet choose all the right words to describe the song's subject. Calloway makes those words mean even more by filling them with the varying emotions that make the song go. There's real artistry at work in this song.
Susan Calloway might have found some success in relatively unconventional packaging, it attests to her talents that few video game theme songs experience the commercial and critical success greeting the aforementioned song "Answers". This is, ultimately, because Calloway is an artist of great quality who approaches each new song with professionalism and near unparalleled promise. Her music is music of exploration and the fearlessness she shows indulging a variety of emotions will be both inspiring and moving to many listeners.
"Time For This" is a great, great single.
AMAZON: https://www.amazon.com/Time-This-Susan-Calloway/dp/B06XFZ3948
Lance Wright