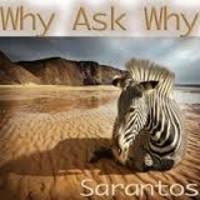 "Why Ask Why" shows Sarantos contemplating the way life unfolds. Strong vocals rest at the very heart of the sound with everything else revolving around them. Lyrically the song focuses on living to the absolute fullest, both as an individual and as a member of the world at large. Throughout the song, a philosophy begins to form, one which emphasizes the importance of remaining vigilant of the world's problems, of how a person can make a greater difference. By questioning the world one gets a better sense of all that which affects them and those they care the most about.
Things start up with a strong guitar riff which adorns the rest of the track. Gradually the groove is set as the piece is propelled forward. Drums slowly enters the mix, hesitant at first but eventually hitting their stride. Sarantos focuses on all the opinions that tend to crowd out one's thoughts, on social media and elsewhere. With so much noise it can be difficult to understand exactly what is the most important part of life. Over the course of the piece Sarantos delves deeper into this topic, through simply wondering what has gained our attention versus what truly deserves our attention. By offering this balance the way that the song frames it is by truly focusing on oneself one can achieve a certain level of peace within the world.
Empathy is explored with true grace and style on Saranatos' rollicking rock sound on "Why Ask Why".
By – beachsloth.com