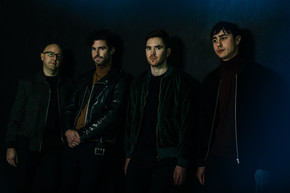 London four-piece Zola Blood return with Good Love, the new single from their upcoming debut album, Infinite Games.
Having made a name for themselves through their brand of brooding electronica – the band's last single 'Islands' gained huge support from the likes of Huw Stephens and solid backing from Spotify. 'Good Love' builds and crystallises in tone, glistening and atmospheric, it's a track that gradually draws you in while maintaining a hypnotically steady beat, filled with pulsing synths and delicate trills.
About the track the band have said: "Good Love is about finding the good times and staying there. We wanted to write a song that was rhythmically repetitive and that keeps you in one place, so the chords and the beat are the same – it's a song to find happy oblivion to."
Following a sold out headline show at London's Pickle Factory, the band are set to support Fenech-Soler on the Manchester and London dates of their UK tour. Their debut album Infinite Games is due for release later in 2017.