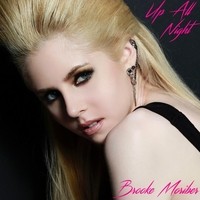 Brooke Moriber is, virtually, a Renaissance woman. There simply aren't as many all-around performers still on the scene, regardless of gender, who cover as many bases. Moriber's music career comfortably sits alongside her critically praised career as an actress with numerous Broadway, film, and television credits filling out her CV. She's a true force in both arenas. She also has honed her skills as a writer collaborating with some of the best songwriting talent working today in music hubs like Nashville, Los Angeles, and NYC. The Greenwich Village native has also logged numerous live appearances at renowned venues on both coasts and her latest single, "Up All Night", shows some of her formative influences like Amy Lee and Linda Ronstadt, but its dig in your heels passion and steadiness belongs to her alone. The artistic quality of this release is sure to send her career in new directions and increase her public profile to even greater heights than before.
The bass throb opening the track and carrying on throughout its entirety, but synthesizers soon take over and the song's physical rhythms take over. Electronic percussion has traveled quite far since its dry, artificial beginnings and Moriber uses it to memorable effect in this arrangement; unlike classic rock, for instance, it's important this sort of music stays on the beat and the tempo never slackens. Moriber and her collaborators constructed the song in masterful fashion. It's a song with frequent crescendos and lulls in energy, all of them perfectly orchestrated. Moriber takes full advantage of the aforementioned moments and tailors her singing to suit the song. There's some light post production effects applied to her voice, but it isn't to reinforce a weak singer. Moriber throws herself into the performance with confident abandon and it matches up quite well with the arrangement's dramatic qualities.
The lyrics testify to her growing skills as a writer. It's an intensely personal lyric often times depicting Moriber's struggle with physical, specific language bringing listeners into her experience. There's a variety of emotions running through the song's words, but there's certainly no fear in Moriber's delivery. She embodies the song's desires strongly without ever forsaking nuances of phrasing and intonation, gifts of a naturally gifted but well seasoned singer. Her paint-peeling belt really leaps out at a few key points in the performance. The title, at first glance, might imply a more jovial, party sort of song, but that isn't the case at all with Brooke Moriber's "Up All Night". Instead, this is hard-charging dance track with intense and highly emotive vocals.
It may very well be her finest moment so far. It will not be her last. If there's nothing else emerging from this track and the facts of Brooke Moriber's life, it's her career trajectory has an irrepressibly upward swing not yet close to its peak ascent. "Up All Night" will entertain many and has real substance reaching beyond the dance floor or pop radio station. She delivers a deeply personal but accessible performance that represents her latest altitude and audiences will enjoy hearing her in full flight.
Jason Hillenburg