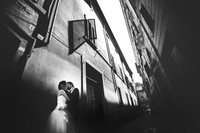 Sarantos delivers a passionate, romantic work on the defiant spirit of "We Kiss In The Shadows". Downright glorious, this song is a celebration of true love. Lyrics focus on the way that love can truly transcend. Arrangements are pitch perfect with a catchy dance-rock fusion. With this arrangement Sarantos can add additional power to his performance, as the multi-layered approach touches upon funk, rock, dance, even small elements of R&B thrown into the mix. By opting for this, Sarantos creates a classic rebellious sort of love song. Vocal delivery only adds to this overall gorgeous track, as Sarantos delves deep into what defines a truly meaningful relationship.
Wasting no time, Sarantos dives into the thick of things. The groove immediately takes hold as the song moves forward at a blistering pace. Guitar gestures are profound for they soar into the sky at all the right moments. Indeed, much of the song focus on a carefree playful persona, one who is unafraid. By resting in the shadows Sarantos shows how the darkness can bring true real comfort. Volume is an absolute must for this is a song that should be felt as much as heard. Various tempo shifts occur to further emphasize the story that informs the song, one that laments the problems of a new relationship and how those relationships can bring people together.
On "We Kiss In The Shadows" Sarantos makes a truly heartfelt love song, one that feels modern and full of life.
By – beachsloth.com