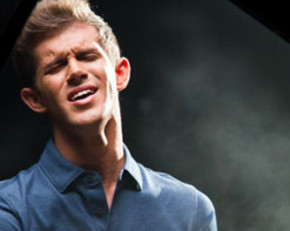 Dylan Bernard was bit by the music bug at an early age. When his mother placed his him in a church choir at the age of four he instantly fell in love. Sadly, he lost his mother a few years later and the musical spirit she instilled in him went dormant. This kind of talent, however, cannot be overlooked and as he grew older he began to rediscover his love for the art. He would sing around his friends and family. They encouraged him to post his videos online so others could see them. Since then, Dylan has shared the stage and participated in events alongside artists such as IM5, Drake Bell, Beverly McClellan, Trevin Hunte, Cody Simpson, and more.
http://www.facebook.com/DylanTBernardMusic
It was this work ethic that prompted him to relocate to the west coast, where he has been creating song after song of increasingly impressive quality. He's also been making lots of talented friends, one in particular being fellow HIP Video Promo artist Will Jay! We've proudly celebrated Will's talents, and their YouTube cover duet of Ruth B's "Lost Boy" shows that Dylan is cut from the same cloth. An exceptional talent with an undeniable "it" factor!
His new single, "Flames," showcases Dylan's songwriting skills in a stripped down, piano-driven composition. It's an intimate examination of "the beginning of the end" and the inevitability that lies ahead. The "Flames" video is a straightforward, visually rewarding piece of cinema that puts Dylan front and center. His confidence and quiet charisma behind the piano carries the video from the start. Not long after he begins the song a gorgeous female enigma swiftly brushes by his side, reminding him that letting go isn't always that easy. It's not long until Dylan is consumed by the presence of this mysterious madam, taunting and teasing him throughout the video. Though he knows it's a toxic combination he perseveres, following her from room to room in the dark. Is she the real thing or is she just a figment of a rocky past that refuses to let him go? Check out "Flames" to find out!