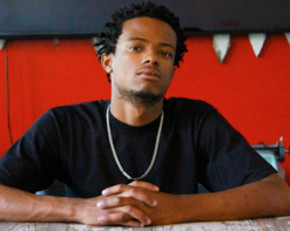 We are excited to bring you Con and his newest video, "Free Dreams." Venturing into solo artistry for the first time in his musical career, Con is a killer, imaginative voice coming straight out of the St. Louis music scene. With his honest, merciless lyrics that deliver a deep and serious message backed behind a magnetic track, Con is the artist to look out for this year. As a young leader in today's thriving "DIY" community, his musical mastermind transcends easily across a number of genres, often birthing what most profoundly consider the explicit emerging sounds of tomorrow. It's safe to say that Con is a force to be reckoned with. This is quite obvious in his newest hit, "Free Dreams." Con's music is equipped with a true experience you don't want to miss out on.
http://www.a1hustlellc.com/con/
You can find Con on Charter OnDemand, the Source, and DJ Booth. He has shared the stage with artists such as Montana of 300, Trill Sammy, AbSoul, Chance The Rapper, Travis Scott, Alex Wiley, GEazy, Blu, Slum Village, SOMO, and Nitty Scott.He is a solo artist from the collective MME which is a self-sufficient dynamo of an indie musical collective hailing from the city of St. Louis, Missouri. MME also brought us the electrifying Mvstermind and his "Mali Moolah" video in 2016. Con continues to work on various solo projects that will be released within the near future.
"Free Dreams" is a song reminiscent of the rappers of the 90's such as Coolio and Public Enemy. Soaked with rhythms all his own and a lyrically substantial sermon, "Free Dreams" delivers a message about rising from the ashes of ancestors' past and coming out on top to make something out the struggles that have been faced. This tale deals with the Black American Narrative of dignity, confidence, and distributing success across the culture.