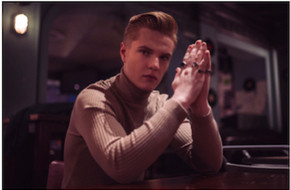 Introducing Sonny, the 17-year-old singer-songwriter and multi-instrumentalist stepping up to become the UK's finest soul singer-songwriter. His stirring potential emanates through debut offering 'Princess'.
The soulful ballad, produced by Rum And Bug production team, showcases Sonny's ability to amalgamate throwback and retro influences and create a beautifully fused modern soundscape of indie, folk, soul and R&B. As a songwriter Sonny finds inspiration from real-life experiences, with his music chronicling the ups and downs of life and love with just enough knowing humour. He explains, "My first release 'Princess' is a very personal song about a challenging relationship. It's a little tongue in cheek but I've tried to be as honest as possible and I hope that shows throughout the lyrics in this song."
Sonny is part of the elite roster at independent label Never Fade Records, an independent record label that has launched careers of artists such as Gabrielle Aplin and Saint Raymond.