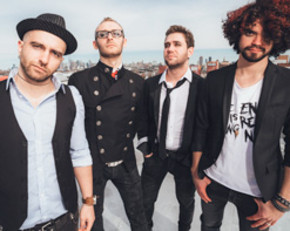 Bonding over influences like Queen, Muse, My Chemical Romance, Biffy Clyro, and many others, Brooklyn's My Demons Galore puts a premium on creating hard rock music with striking lyrics, anthemic choruses and bigger-than-life personality. They find that perfect balance between music that is accessible to the masses and the kind of technical prowess that hooks even the most discerning musicians. Their new video for "Empty Bottles" brings all of these qualities to life in a vice-filled escapade of grand proportions!
http://www.facebook.com/MyDemonsGalore/
What the positive feedback heaped on My Demons Galore for their new self-titled EP (released on Halloween 2016) has proven is that even though Brooklyn is pigeonholed as a borough with an affinity for trendy electronic and folk outfits, there is still a deep love for rock music. The earliest groups to put Williamsburg on the map were rock bands like Nada Surf, The Walkmen, Pilot To Gunner, and Clem Snide. The Arena Rock Recording Co.'s 2001 compilation This is Next Year: A Brooklyn-Based Compilation served as the definitive soundtrack for the Brooklyn music scene for a generation of fans. Although stylistically and musically different, it's this rich history combined with the band's love of big hooks, anthemic melodies and masterful showmanship that has paved the way for My Demons Galore to stake their claim at the forefront of the next rock wave of not just Brooklyn, but all of NYC and beyond.
In their "Empty Bottles" video, My Demons Galore offer up a hedonistic slice of alt-rock goodness. After teasing the viewer with the "morning after" look, My Demons Galore rolls back the camera to the night before to show how a rock show devolved into a sex-fueled romp where there is an abundance of flesh, drugs, and debauchery. Frontman Dan Aviz serves as the ringleader, but each member of group lends their unique talents to make this a night they'll never forget. Or maybe it's a night they'll never remember?